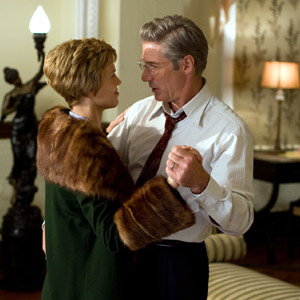 ---

Talented actors Bradley Cooper and Richard Gere are expected to endear themselves to moviegoers through 20th Century Fox's upcoming films All About Steve and Amelia.

Bradley Cooper, whom audiences recently saw in the box-office hit The Hangover, stars opposite Sandra Bullock in the heartwarming comedy All About Steve. Cooper is news cameraman Steve Hartman whom whiz woman Mary Horowitz (Bullock) pursues after their first hot date outside her parent's house. Realizing she has found her soul mate, Mary goes on a rendezvous following Steve in news coverage.

Gentle and polite, Steve can't easily get across to the socially-challenged cruciverbalist Mary that they are not an item. What happens is a series of offbeat situations between Mary and Steve that eventually get people and the news moving across the country. Despite the media storm surrounding her, Mary with her upbeat, unaffected manner brings together a small community of new friends. Steve, despite being stalked all throughout, pans on the spotlight to Mary to tell the world that the ones who don't fit in are the ones who really stand out.
During pre-production, it became evident to Bullock (who also produces the movie) that Bradley Cooper fit the bill as the handsome cameraman Steve, who elicits a passionate response from Mary during their very brief first date. Cooper's rugged good looks, innate charisma and impeccable comic timing in his lead role in the blockbuster comedy The Hangover, proved to be an irresistible combination. "He has the ability to play the cad believably, yet can still evolve into someone who's misunderstood," says Bullock.

Cooper says the feeling was mutual and taking on the role was an easy decision. "The draw for joining the project was Sandy [Bullock]," he recalls. "The prospect of working with such a wonderful actress was enticing, and I thought it would be a great experience."

Cooper, with his extensive training and experience in theater, television and film, is one of the most sought after actors of his generation. He recently starred in the hit comedy, The Hangover. His other film credits include He's Just Not That Into You, Yes Man, Wedding Crashers and Wet Hot American Summer. Born in Philadelphia, Cooper graduated with honors in the English program at Georgetown University. After moving to New York City, he obtained his Masters in the Fine Arts program at the Actors Studio Drama School at the New School University.

BIOPIC AMELIA. Parallel to what was done in Julia Roberts' role in Pretty Woman, Richard Gere once again empowers women as he puts Hilary Swank right in the spotlight in the movie biopic Amelia. In the upcoming flight of Amelia, Gere plays the wealthy influential publishing magnate George Putnam, the man behind the fame of the world's pioneer aviatrix Amelia Earheart.

Amelia Earheart's (Swank) early aviation triumphs and meteoric rise to fame and fortune were propelled by her tempestuous partnership and eventual marriage to publisher George Putnam (Gere). Bound by mutual ambition, admiration and ultimately a great love, their bond could not be broken with her brief passionate affair with Gene Vidal (Ewan McGregor).

ADVERTISEMENT - CONTINUE READING BELOW
And in the summer of 1937, Amelia set off on her most daunting mission yet: a solo flight around the world that she and George both anxiously foresaw as destined, whatever the outcome, to become one of the most talked-about journeys in history.

Golden Globe winner Richard Gere who plays George Putnam with so much charm is best known for his notable roles in acclaimed hit films Chicago, Unfaithful, An Officer and a Gentleman, Days of Heaven, American Gigolo, Pretty Woman and Primal Fear. Gere has proven himself as an enduring Hollywood star who made women's heart race in his other films which include Nights in Rodanthe, Shall We Dance, The Interpreter, Autumn in New York, Sommersby and Runaway Bride.

Off screen, Gere is an accomplished pianist, music writer and humanitarian. A student and friend of His Holiness the Dalai Lama, he also became an accomplished photographer and made his first book, Pilgrim, a collection of images from his twenty-year journey throughout India, Nepal, Zanskar, Tibet, Mongolia and China.

All About Steve and Amelia opens very soon in theaters from 20th Century Fox to be distributed by Warner Bros.