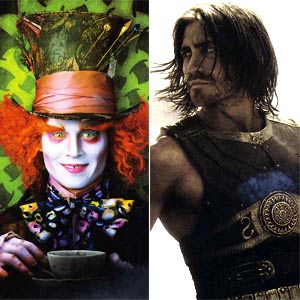 ---
The beloved tradition of family entertainment continues in Walt Disney Studios' 2010 line-up that runs the spectrum of action-adventures, 3D spectacles, animated features, romantic comedies and smart thrillers. It's a veritable wonderland of movies!


ALICE IN WONDERLAND. From Walt Disney Pictures and visionary director Tim Burton comes an epic 3D fantasy adventure Alice in Wonderland, a magical and imaginative twist on some of the most beloved stories of all time.
Johnny Depp stars as the Mad Hatter and Mia Wasikowska as 19-year-old Alice, who returns to the whimsical world she first encountered as a young girl, reuniting with her childhood friends: the White Rabbit, Tweedledee and Tweetledum, the Dormouse, the Caterpillar, the Cheshire Cat, and of course, the Mad Hatter. Alice embarks on a fantastical journey to find her true destiny and end the Red Queen's reign of terror. The all-star cast also includes Anne Hathaway, Helena Bonham Carter and Crispin Glover.
ADVERTISEMENT - CONTINUE READING BELOW
Also showing in Disney Digital 3D and IMAX 3D.
RAPUNZEL. In this new telling of the classic fairy tale, Rapunzel, audiences will be transported to a stunning CG fantasy world complete with the iconic tower, an evil witch, a gallant hero and, of course, the mysterious girl with the long golden tresses.
Expect adventure, heart, humor, and hair...lots of hair, when Rapunzel unleashes her locks.


THE PRINCESS AND THE FROG. Walt Disney Animation Studios presents the musical The Princess and The Frog, an animated comedy set in the great city of New Orleans.
From the creators of The Little Mermaid and Aladdin comes a modern twist on classic tale, featuring a beautiful girl named Tiana (Anika Noni Rose), a frog prince who desperately wants to be human again, and a fateful kiss that leads them both on a hilarious adventure through the mystical bayous of Louisiana.
The Princess and The Frog marks the return to hand-drawn animation from the revered team of John Musker and Ron Clements, with music by Oscar-winning composer Randy Newman.
ADVERTISEMENT - CONTINUE READING BELOW
TOY STORY 2. They're toys, they talk--at least when people aren't around--and they're back! Celebrate the return of the 'Toy Story' franchise--this time in Disney Digital!
Toy Story, the film that started it all, takes moviegoers back to that fantastic fun-filled journey, viewed mostly through the eyes of two rival toys--Woody (voice of Tom Hanks), the lanky, likeable cowboy, and Buzz Lightyear (voice of Tim Allen), the fearless space ranger.
Disney-Pixar's Toy Story 2 picks up as Andy heads off to Cowboy Camp, leaving his toys to their own devices. Things shift into high gear when an obsessive toy collector named Al McWhiggin, owner of Al's Toy Barn kidnaps Woody. The toys get into one predicament after another in their daring race to get Woody home before Andy returns.


TOY STORY 3. The creators of the beloved Toy Story films re-open the toy box and bring moviegoers back to the delightful world of Woody, Buzz and our favorite gang of toy characters in Toy Story 3. Woody and Buzz had accepted that their owner Andy would grow up someday, but what happens when that day arrives?
ADVERTISEMENT - CONTINUE READING BELOW
In the third installment, Andy is preparing to depart for college, leaving his loyal toys troubled about their uncertain future. Lee Unkrich (co-director of Toy Story 2 and Finding Nemo), directs this highly anticipated film, and Michael Arndt, the Academy Award-winning screenwriter of Little Miss Sunshine, brings his unique talents and comedic sensibilities to the proceedings.
PRINCE OF PERSIA: THE SANDS OF TIME. From the team that brought the Pirates of the Caribbean trilogy to the big screen, Walt Disney Pictures and Jerry Bruckheimer Films present Prince of Persia: The Sands of Time. An epic action-adventure set in the mystical lands of Persia.
A rogue prince (Jake Gyllenhaal) reluctantly joins forces with a mysterious princess (Gemma Arterton) and together, they race against dark forces to safeguard an ancient dagger capable of releasing the Sands of Time--a gift from the gods that can reverse time and allow its possessor to rule the world.
ADVERTISEMENT - CONTINUE READING BELOW
Directed by Mike Newell (Harry Potter and the Goblet of Fire) with a cast that includes Sir Ben Kingsley and Alfred Molina.
THE SORCERER'S APPRENTICE. Walt Disney studios, producer Jerry Bruckheimer and director Jon Turteltaub, the creators of the National Treasure franchise, present The Sorcerer's Apprentice--an innovative and epic romantic comedy adventure about a sorcerer and his hapless apprentice who are swept into the center of an ancient conflict between good and evil.
Balthazar Blake (Nicolas Cage) is a master sorcerer in modern-day Manhattan trying to defend the city from his arch-nemesis, Maxim Horvath (Alfred Molina). Balthazar can't do it alone, so he recruits Dave Stutler (Jay Baruchel), a seemingly average guy who demonstrates hidden potential, as his reluctant protégé. The sorcerer gives his unwilling accomplice a crash course in the art and science of magic, and together, these unlikely partners work to stop the forces of darkness. It'll take all the courage Dave can muster to survive his training, save the city and get the girl as he becomes The Sorcerer's Apprentice.
ADVERTISEMENT - CONTINUE READING BELOW
TRON LEGACY. Tron is a 3D high-tech adventure set in a digital world that's unlike anything ever captured on the big screen.
Sam Flynn (Garrett Hedlund), the tech-savvy 27-year-old son of Kevin Flynn (Jeff Bridges), looks into his father's disappearance and finds himself pulled into the same world of fierce programs and gladiatorial games where his father has been living for 25 years. Along with Kevin's loyal confidant (Olivia Wilde), father and son embark on a life-and-death journey across a visually-stunning cyber universe that has become far more advanced and exceedingly dangerous.
WHEN IN ROME. An ambitious young New Yorker (Kristen Bell), disillusioned with romance, takes a whirlwind trip to Rome where she defiantly plucks magic coins from a 'foolish' fountain of love, inexplicably igniting the passion of an odd group of suitors: a sausage magnate (Danny Devito), a street magician (Jon Heder), an adoring painter (Will Arnett) and a self-admiring model (Dax Shepard). But when a charming reporter (Josh Duhamel) pursues her with equal zest, how will she know if his love is the real thing?
ADVERTISEMENT - CONTINUE READING BELOW

Other upcoming movies include:


You Again. Starring Kristen Bell, Jamie Lee Curtis, Sigourney Weaver and Betty White, You Again is an outrageous comedy about a successful PR pro who discovers that her brother is marrying her high school arch nemesis.

Secretariat. Against all odds, housewife and mother Penny Chenery (Diane Lane)--with the help of veteran trainer Lucien Laurin (John Malkovich)--navigates the male-dominated horseracing business, ultimately taking Secretariat on a spectacular journey to become the first Triple Crown winner in 25 years and perhaps the greatest racehorse of all time.

The Debt. Starring Academy Award winner Helen Mirren (The Queen), Sam Worthington and Tom Wilkinson. In this new thriller from director John Madden, three Israeli Mossad agents were sent on a secret mission in 1965 to capture a notorious Nazi war criminal in East Berlin.

Everybody's Fine. Starring Robert DeNiro, Drew Barrymore, Kate Beckinsale and Sam Rockwell. A remake of the 1990 Italian film, it follows a widower who embarks on an impromptu road trip to reconnect with each of his grown children.

The Last Song. Touchstone Pictures presents the film version of an upcoming novel by Nicolas Sparks. It will star Miley Cyrus, Greg Kinnear and Kelly Preston. Set in a small southern beach town, an estranged father gets a chance to spend the summer with his reluctant teenage daughter who'd rather be home in New York.
ADVERTISEMENT - CONTINUE READING BELOW