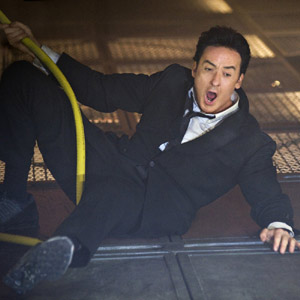 ---
MANILA—Doomsday attracted thousands of moviegoers to the Philippine box-office, giving Columbia Pictures' end-of-the-world epic 2012 the No. 1 spot at the charts. The film toppled records with a nationwide, three-day opening weekend gross of a colossal P79.7-million for the November 13-15 frame. This was announced today by Victor Cabrera, managing director of Columbia Pictures.

Worldwide, the disaster film was able to sweep over the box office with $225 million in its opening weekend, including a No. 1 debut of $65 million in the United States.

The apocalyptic thriller's P79.7-million opening weekend gross is the year's third-biggest industry-wide (just behind Transformers 2 and Harry Potter and the Half-Blood Prince) and Columbia 's best for 2009 (beating Angels & Demons).

The film's first-day earnings of P22-million last Friday, November 13 also grabbed the record for the year's second highest opening day, and fourth-biggest all-time (following Spider-Man 3, Transformers 2 and Spider-Man 2).

According to Columbia Pictures, the biggest-selling 20 cinemas are SM Megamall (P3.90-M), SM Mall of Asia (P3.61-M), Trinoma (P3.58-M), SM North EDSA (P3.35 ), Gateway (P2.76-M), Glorietta 4 (P2.41-M), Sta. Lucia (P2.09-M), SM Cebu (P1.92-M), Greenbelt 3 (P1.87-M) and Robinsons Ermita (P1.86-M).

They're followed closely by SM Manila (P1.71-M), Festival Mall (P1.63-M), SM Fairview (P1.591-M), Power Plant (P1.590-M), SM Clark (P1.56-M), SM San Lazaro (P1.54-M), Robinsons Galleria (P1.47-M), Shang Cineplex (P1.40-M), Alabang Town Center (P1.38-M) and Market! Market! (P1.36-M).

Directed by Roland Emmerich, 2012 tells of a global cataclysm that brings an end to the world and the heroic struggle of the survivors. Centuries ago, the Mayans left us their calendar, with a clear end date and all that it implies. Since then, astrologists have discovered it, numerologists have found patterns that depict it, geologists say the earth is overdue for it, and even government scientists cannot deny the cataclysm of epic proportions that awaits the earth in 2012. A prophecy that began with the Mayans has now been well-chronicled, discussed, taken apart and examined. By 2012, we'll know—we were warned.
ADVERTISEMENT - CONTINUE READING BELOW

Still playing across the Philippines, 2012 is distributed by Columbia Pictures, local office of Sony Pictures Releasing International.