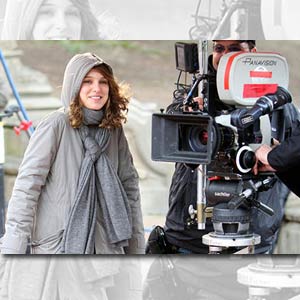 ---
Oscar-nominated actress Natalie Portman (Closer) is making her directing debut on Vivendi Entertainment's romantic comedy/drama New York, I Love You--a compilation of intertwining short love stories of various kinds.

She joins an eclectic group of directors including Jiang Wen, Mira Nair, Shunji Iwai, Yvan Attal, Brett Ratner, Allan Hughes, Shekhar Khapur, Fatih Akin, Joshua Marston and Randy Balsmeyer, who are all contributing their own vignettes in the film. New York, I Love You invites the audience into the intimate lives of New Yorkers as they grapple with, delight in and search for love.

Portman's short film (which she also wrote) is about a father who shepherds a child through Central Park and is mistaken for a nanny. She also stars in a separate segment directed by Mira Nair, playing an Orthodox Jew who connects with an Indian jewelry dealer as they exchange cultural stories.

"Working with Mira in New York, I was so thrilled to watch a female director, and you couldn't ask for a better model than her," says Natalie. "For me, directing isn't a backup plan, because I really love it. At the end of the day, it is your product, which you don't get when you're acting. Even good performances are pieced together by good directors. You give plenty of bad takes, and they put it together in the editing room."

As for when she might take on that particular challenge, "I don't love saying I'm going to do something before I do it because I feel like that's a formula for hearing, 'You never did what you said you were going to,'" she says, "but I really love directing." And while she admits to some fear of stepping behind the camera and out of her comfort zone, "that's intrinsic to everything you do as a creative person. You're constantly putting yourself up there to be trashed. If I thought about it too much, I'd just be crippled. I'd rather create."
ADVERTISEMENT - CONTINUE READING BELOW

New York, I Love You is a follow-up to Paris, je t'aime, which quietly racked up nearly $5 million at the U.S. box-office last year, quite a feat for a French-language title.

Paris je t'aime kicked off producer Emmanuel Benbihy's planned global series that could see numerous locales get the "I love you" treatment, with Shanghai and Africa on the drawing board. The timing is right, the producers add. "This is a way for directors to play with a format that isn't 90 minutes," Benbihy pointed out.

"With films like Crash and Babel, the approach to narrative has changed," producer Marina Grasic said. "People are getting more sophisticated about watching content in shorter forms."

New York, I Love You will be shown exclusively at Ayala Malls Cinemas (Glorietta 4 & Greenbelt 3) starting December 9, 2009.