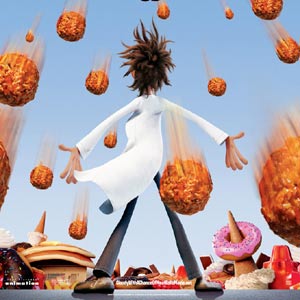 ---
Tired of people telling you what you can and can't eat? Disappointed that you have to stomach the same boring foods day in and day out? Waiting for the day when you can just order whatever you want, whenever you want?
Well, the wait is over.


This season, prepare to be served by Columbia Pictures' Cloudy with a Chance of Meatballs, a hilarious adventure of an epic. Inspired by the beloved children's book, the film focuses on a town where food falls from the sky like rain.

In this U.S. box-office hit, aspiring inventor Flint Lockwood (Bill Hader's voice) is the socially awkward genius behind some of the most bizarre contraptions ever conceived. Although all of his inventions, from spray-on shoes to a monkey thought-translator, have been spectacular failures that caused trouble in his small town, Flint is determined to create something that will make people happy.
ADVERTISEMENT - CONTINUE READING BELOW

When Flint's latest machine, designed to turn water into food, accidentally destroys the town square and rockets up into the clouds, he thinks his inventing career is over. Until something amazing happens: cheeseburgers start raining from the sky. His machine actually works! The food weather is an instant success, and Flint forges a fast friendship with Sam Sparks (voice of Anna Faris), the weather girl who comes to town to cover what she calls "the greatest weather phenomenon in history."

But when people greedily ask for more and more food, the machine starts behaving erratically, unleashing spaghetti tornadoes and giant meatballs. With the town about to be buried beneath mountains of marshmallows and waves of watermelons, it's up to Flint and Sam to use their combined expertise to shut down the machine and put everything right.

The film features the voices of Bill Hader, Anna Faris, James Caan, Andy Samberg, Bruce Campbell, Mr. T, Benjamin Bratt, Neil Patrick Harris, Al Roker, Lauren Graham, and Will Forte.
ADVERTISEMENT - CONTINUE READING BELOW
The film is written for the screen and directed by Phil Lord and Christopher Miller. Based on the book written by Judi Barrett and illustrated by Ron Barrett.

Opening soon across the Philippines, Cloudy with a Chance of Meatballs is distributed by Columbia Pictures.