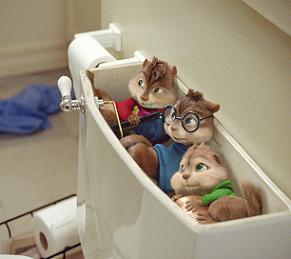 ---
After the release of Alvin and the Chipmunks comes the much-anticipated Alvin and the Chipmunks 2: The Squeakquel in which the mischievous and delightful trio—Alvin, Simon and Theodore—have to deal with school along with their new temporary guardian Toby (Zachary Levi).

Life changes in a 180-degree turn for the Chipmunks when Alvin inadvertently causes an accident on stage, which results in Dave Seville's severe bone fracture and forces him to stay for months in a French hospital. Dave then designates his aunt as the Chipmunks' guardian. Unfortunately, the wheelchair-bound Aunt Jackie also encounters a bad accident, leaving Dave's cousin, the likeable but irresponsible Toby in charge of the Chipmunks.

Toby is hardly the type of secure family figure the Chipmunks need at this important crossroads in their lives. Zachary Levi tunes us in the following Q&A how he and the Chipmunks got along in the film.

Q: What is Toby's character like?
A: "Toby is just a big kid. He is the nerdy cousin of Dave. He is in his mid to late twenties and is a real man-child who didn't do anything with his life. He might have the potential, but doesn't have the drive yet to get anywhere."

Q: How qualified is Toby to be the guardian of the Chipmunks?
A: "Toby is not qualified to take care of the Chipmunks, but he does have a good heart. He sees the Chipmunks and learns about family and love between brothers. He also learns to face his own fears. As little Theodore stands up to his fears, Toby does too.

Q: How was it working in the film?
A: "I spent most of the movie talking to characters who aren't really there. But I feel that as long as you play it honestly, there is a certain reality that will come out of it. Using your imagination is crucial, but I enjoy it, it's fun and challenging. It's nice to work those muscles out.
ADVERTISEMENT - CONTINUE READING BELOW

Q: What will the audience look forward to in the sequel?
A: "People like the characters...parents remember them and kids love them. This might sound crazy but I honestly think it's a blessed idea. They have hit on something incredibly special. At the end of the day this film harkens back to great classic family entertainment that we don't really get too much these days. It's a big high-energy family comedy that everyone will love."

One of People's "Sexiest Man Alive" in 2007 and Entertainment Weekly's "30 Under 30" list of actors to watch in 2008, Zachary Levi's rise to fame came when he played a computer geek turned unwitting government agent on the surprise hit series, Chuck.

After graduating from high school, Levi starred in regional productions of Grease, The Outsiders, Oliver, The Wizard of Oz, and Big River. With a struggling actor's salary, Levi took odd jobs to pay the bills, including work as a busboy, as an employee at Blockbuster and at a car wash which would later on become his tool for character-building.

Levi's film credits include Big Momma's House 2, American Carol, Spiral, Wieners and Big Shot: Confessions of a Campus Bookie.

Alvin and the Chipmunks 2: The Squeakquel opens January 8, 2010 in theaters from 20th Century Fox to be distributed by Warner Bros.