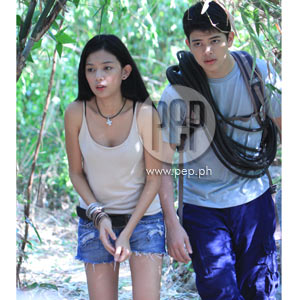 ---
Classic horror franchise Shake, Rattle and Roll has scared one generation after another since its debut in 1984. This holiday season, the big screen is ripe once more with a new set of horror stories written especially for the 11th installment of the long-running film series.
In one of its episodes, "Lamang Lupa," Kapuso rising star Jennica Garcia plays the starring role as Shiela, a girl who went camping with a group of friends only to be relentlessly pursued by ferocious creatures. For this episode, production outfit Regal Films was able bring together stars from rival networks including Jennica and Mart Escudero, Rayver Cruz, Iya Villania, Bangs Garcia, and twin brothers Dominic and Felix Roco.
Shot in Tungko, Bulacan, "Lamang Lupa" offers scenes that are frightening enough to scare even lead actress Jennica Garcia. During her solo press conference for Shake, Rattle and Roll XI, Jennica demonstrated how she panted endlessly at the end of a particularly terrifying scene.
She admitted that she was so frightened during the shooting, that she found it difficult to comprehend the director's instructions. She imitated episode director Jessel Monteverde, "'O dito mang-gagaling [yung lamang lupa] ha,' [pero] ako, come what may na lang. Sa haba [nung scene], maaalala ko pa ba kung saan lalabas?" The episode includes a very long chase involving the lamang lupa and a terrifying surprise at the end.
Being a commercial director, "Lamang Lupa" is Jessel Monteverde's first stab at film direction. "He's very meticulous," said Jennica.
STARSTRUCK BY IYA. During the press conference, Jennica shared how she was starstruck by fellow cast member Iya Villania. Jennica narrated how she met Iya for the first time during an early morning workshop for the movie.
"Kasi feeling ko kilalang-kilala ko na siya. Kasi hindi pa po ako artista, nanonood na ako ng MYX VJ siya do'n," she explained. "So parang ako, hello hello, tapos iniwas ko agad yung tingin ko kasi I'm afraid na if I stare at her, she'll notice. Tapos siya yung, parang, hey this is the first time that we've met di ba? I'm Iya," she narrated animatedly. "Hindi ko masabi na, ano ka ba? Kilalang-kilala kita! Ako ang hindi mo kilala!" she laughed.
ADVERTISEMENT - CONTINUE READING BELOW
Jennica also described Iya as incredibly nice, super bubbly, and very charming.
LIKE MOTHER, LIKE DAUGHTER. Jennica already has two consecutive Shake, Rattle and Roll movies to her name, the first being a supporting role in "Nieves" opposite fellow Kapuso star Marian Rivera. With "Lamang Lupa" as her first title role, Jennica seems to follow in the footsteps of her mother Jean Garcia, whose launching movie was the hit horror flick, Impaktita.
Jennica said that it is quite a challenge for her to have her first starring film role in the same genre as her mother, but wished that the public would also enjoy her performance.
"Hindi ko masasabi na dito ko lang binigay yung best ko, kasi sa lahat naman po, di ba, all-out ka talaga, support man yan o magandang role na medyo malaki," said Jennica of her performance in "Lamang Lupa."
How does she feel to play the lead character in a movie?
"Masaya po, na nakakatakot din. Kasi siyempre, you have to motivate yourself, so hindi pwedeng put-on lang yung pagkatakot mo, kailangan ilagay mo sa puso mo, sa utak mo, na totoo lahat ng pangyayari," she answered. She also added that she felt happy to have worked with stars from the rival network.
Other episodes in Shake, Rattle and Roll XI are "Diablo" starring Maja Salvador and Mark Anthony Fernandez, and "Ukay-Ukay" which reunites former reel and real sweethearts Ruffa Gutierrez and Zoren Legazpi. Shake Rattle and Roll XI is one of Regal Films' entries to the 2009 Metro Manila Film Festival, which opens on December 25, 2009.
SHARE THIS STORY Shake, Rattle and Roll XI" data-url="https://www.pep.ph/guide/movies/5215/jennica-garcia-plays-a-lamang-lupa-victim-in-shake-rattle-and-roll-xi" data-desc="This is Jennica's second time to appear in the horror franchise after she starred in the "Nieves" episode last year." data-image="https://contents.pep.ph/images2/guide/f4f909a0d.jpg"> Shake, Rattle and Roll XI" data-url="https://www.pep.ph/guide/movies/5215/jennica-garcia-plays-a-lamang-lupa-victim-in-shake-rattle-and-roll-xi" data-desc="This is Jennica's second time to appear in the horror franchise after she starred in the "Nieves" episode last year." data-image="https://contents.pep.ph/images2/guide/f4f909a0d.jpg"> Shake, Rattle and Roll XI" data-url="https://www.pep.ph/guide/movies/5215/jennica-garcia-plays-a-lamang-lupa-victim-in-shake-rattle-and-roll-xi" data-desc="This is Jennica's second time to appear in the horror franchise after she starred in the "Nieves" episode last year." data-image="https://contents.pep.ph/images2/guide/f4f909a0d.jpg">
SHARE THIS STORY
Shake, Rattle and Roll XI" data-url="https://www.pep.ph/guide/movies/5215/jennica-garcia-plays-a-lamang-lupa-victim-in-shake-rattle-and-roll-xi" data-desc="This is Jennica's second time to appear in the horror franchise after she starred in the "Nieves" episode last year." data-image="https://contents.pep.ph/images2/guide/f4f909a0d.jpg"> Shake, Rattle and Roll XI" data-url="https://www.pep.ph/guide/movies/5215/jennica-garcia-plays-a-lamang-lupa-victim-in-shake-rattle-and-roll-xi" data-desc="This is Jennica's second time to appear in the horror franchise after she starred in the "Nieves" episode last year." data-image="https://contents.pep.ph/images2/guide/f4f909a0d.jpg"> Shake, Rattle and Roll XI" data-url="https://www.pep.ph/guide/movies/5215/jennica-garcia-plays-a-lamang-lupa-victim-in-shake-rattle-and-roll-xi" data-desc="This is Jennica's second time to appear in the horror franchise after she starred in the "Nieves" episode last year." data-image="https://contents.pep.ph/images2/guide/f4f909a0d.jpg"> Shake, Rattle and Roll XI" data-url="https://www.pep.ph/guide/movies/5215/jennica-garcia-plays-a-lamang-lupa-victim-in-shake-rattle-and-roll-xi" data-desc="This is Jennica's second time to appear in the horror franchise after she starred in the "Nieves" episode last year." data-image="https://contents.pep.ph/images2/guide/f4f909a0d.jpg">