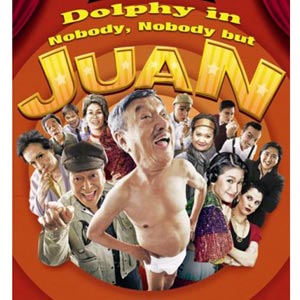 ---


SYNOPSIS. Juan (played by Dolphy) is a senior citizen who lives in a nursing home in the United States. In his younger days, he was a vaudeville performer who was part of a comedy duo called Wan and Tu. The younger version of Wan (Dolphy) is portrayed by his son Epy Quizon while Tu is portrayed by his other son, Vandolph.

To entertain himself and ease his loneliness, Juan watches Wowowee on The Filipino Channel (TFC). His enthusiasm for the show rubs on his friends in the nursing home, and they too, turn into Wowowee converts—much to the chargin of his strict son (played by Eric Quizon) who runs the nursing home.

The elderly Juan misses the Philippines, especially his first love Aida with whom he lost touch during the Japanese occupation of Manila. He finds a way to come back to the Philippines and along the way, he is reunited with his good friend Tu (portrayed by Eddie Garcia). He also finds out the whereabouts of his lady love Aida (portrayed by Gloria Romero).

G Toengi is cast as the wife of Eric Quizon in this movie.

The screenplay of Nobody, Nobody but... Juan is written by Bibeth Orteza and directed by Eric Quizon.

Be part of Juan's journey in finding his one true love when the movie opens on December 25, 2009.
CLICK HERE to read PEP's complete review of Nobody Nobody but Juan!