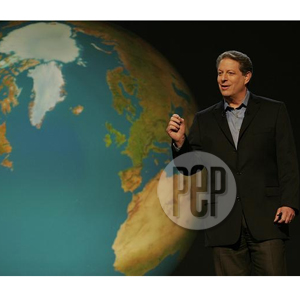 ---
The University of the Philippines Film Institute recently screened the documentary An Inconvenient Truth. SM digital cinemas nationwide even showed the movie for free on Earth Day last April 22. Why is there a strong show of support for this environmental film?
Narrated by former U.S. vice-president Al Gore and directed by Davis Guggenheim, An Inconvenient Truth premiered at the 2006 Sundance Film Festival. It was awarded the 2007 Academy Award for Documentary Feature and Best Original Song for Melissa Etheridge's "I Need to Wake Up," making it the first documentary to win a best original song Oscar.
The storytelling is fluid, the graphs are clear, and there's even an emotional tug in the heart, especially when personal circumstances of Al Gore are used as parallelisms with the environmental crisis facing the planet Earth. All of these factors will keep you transfixed once you open your mind to the implications of global warming on our planet.
As mentioned in the film, humans have become a force of nature—a rather destructive one. An Inconvenient Truth not only appeals to your intellect but it also appeals to the viewers' emotions. Al Gore points it out by saying that it is "deeply unethical" for people, especially political leaders to ignore the problem posed by global warming.
The documentary can get highly technical at times but it is accompanied by simplistic cartoons and Al Gore's dramatic demonstrations.
As the credits roll, you can view several suggested activities that you can do to help combat global warming. Don't pass up the chance to help Mother Earth and, ultimately, help future generations enjoy nature's blessings.
ADVERTISEMENT - CONTINUE READING BELOW