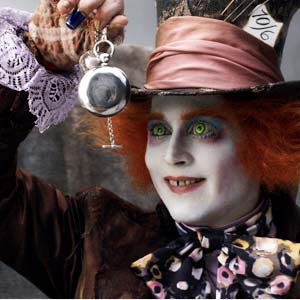 ---
MANILA, March 22 - Despite the onslaught of new movies, Disney's Alice in Wonderland continued to dominate Philippine box-office, as it retained the No. 1 crown for the third consecutive week, grossing P18.9-million nationwide for the March 17-21, 2010 weekend. This was announced today by Victor R. Cabrera, managing director of Walt Disney Studios Motion Pictures Philippines which distributed the film.

The Johnny Depp-starrer lifted its overall earnings to a staggering P115.7-million, making it Disney's third biggest grossing movie ever in the country, just behind 2007's Pirates of the Caribbean: At World's End (P155-M) and 2006's Pirates of Caribbean: Dead Man's Chest (P138-M).

Alice valiantly held off the challenge of new films How to Train Your Dragon which debuted in second place (P8.3-M), and The Book of Eli in third (P8.2-M).

Tim Burton's re-imagining of the Lewis Carroll classic likewise shattered the lifetime gross of 2001's Planet of the Apes (P51.4-M) to become the director's all-time biggest hit locally.

In the U.S., Alice in Wonderland took in $34.5 million to remain the No. 1 movie for a third-straight weekend, according to studio estimates March 21. The Disney release raised its domestic haul to $265.8 million and its worldwide total to $565.8 million after just three weekends in theaters.

An epic 3D fantasy adventure Alice in Wonderland provides a magical and imaginative twist on some of the most beloved stories of all time. Johnny Depp stars as the Mad Hatter and Mia Wasikowska as 19-year-old Alice, who returns to the whimsical world she first encountered as a young girl, reuniting with her childhood friends: the White Rabbit, Tweedledee and Tweedledum, the Dormouse, the Caterpillar, the Cheshire Cat, and of course, the Mad Hatter. Alice embarks on a fantastical journey to find her true destiny and end the Red Queen's reign of terror. The all-star cast also includes Anne Hathaway, Helena Bonham Carter and Crispin Glover.
ADVERTISEMENT - CONTINUE READING BELOW

Still playing across the Philippines in 3D (IMAX and Digital) and in regular 2D theaters, Alice in Wonderland is distributed by Walt Disney Studios Motion Pictures Philippines.