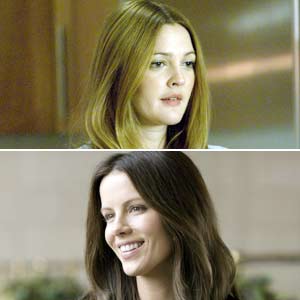 ---
Drew Barrymore and Kate Beckinsale portray sisters living hundreds of miles apart and whose father (Robert De Niro) suddenly makes a surprise visit, in Miramax Films' touching dramatic comedy Everybody's Fine. The film will be shown exclusively at Ayala Malls Cinemas (Glorietta 4, Greenbelt 3 and Trinoma) starting April 7.

Barrymore plays Rosie, the dancer seemingly living the high life in Las Vegas. "It's a film about connecting and communicating and I found the whole concept intriguing," says Barrymore when asked to describe the film. "As you grow up, there is this shock at how distant people can become, how much they grow apart, and how hard it is to carve out time for family and friends. I liked that the film wanted to talk about that because I think it's so important."

She also had great affection for the song-and-dance Rosie tries to pull of for her father's sake. "Rosie is putting on an act for her father because she knows he's really prideful that his little girl has realized all her dreams, so even though she's struggling, she is not going to show him that," Barrymore explains. "She's trying to do the right thing, but, like her sister and brothers, she's stuck in a cycle that needs to be broken."

Barrymore says the character really came to life when she began working with her fellow cast mates. "I hate those fake Hollywood families where people do one read-through and suddenly they're a family," she says. "This was different because we spent time a lot of time together so that the tactile feeling of affection would come across between us."

She continues: "I especially loved being sisters with Kate Beckinsale. She's a very cool girl and a wonderful actress and that was an easy dynamic to jump into. And I've already done a number of films with Sam Rockwell, and it's always a great pleasure having the chance to work with him again. With Robert De Niro, I felt I couldn't just call him 'Bob,' so I started calling him 'Daddy D.' I wanted to get to know him well enough that those emotions would happen naturally on screen."
ADVERTISEMENT - CONTINUE READING BELOW

Kate Beckinsale, had a similar experience in preparing to play Amy, the advertising executive who is hiding some key facts about her married life from her father. "I think we all felt very connected and cobbled together, like a real family," she says. "Everyone was full of emotions about the story. We might not have had the same experiences as our characters but the themes of secrets in families, of trying to protect your parents and the relationships between siblings was something everybody could relate to. It was especially personal to Bob and that sort of filtered down to each of us."

Beckinsale notes that when the father shows up at Amy's architecturally spectacular modern house, he finds that the magazine cover surroundings don't match what's going on inside. "He shows up by surprise in this odd crisis moment and Amy just starts lying and it begins to spiral until she can't stop," she says. "I think for Amy it's especially hard to let go of being the one person in the family who's very successful in the practical parts of life. Her brothers and sisters are all artists, but she's always been the responsible, pragmatic one and the working mother. She wants her father to see that."

It was easy, Beckinsale adds, to get into the father-daughter dynamic because of what De Niro provoked in her. "We all felt that he had this quality that reminded us of our own fathers," she explains. "It's not the way he looks or what he does, but he has this mix of strength and vulnerability that reminded everyone—even people momentarily visiting the set—of their dads."

Everybody's Fine is distributed by Walt Disney Studios Motion Pictures International.