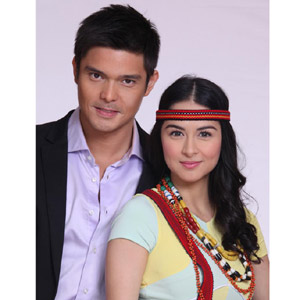 ---
It's a romance-comedy flick. It's a telenovela. It's a crowd-pleaser. Point blank, we can say that You To Me Are Everything—GMA Films and Regal Films' latest big screen project for power pair Dingdong Dantes and Marian Rivera—is formulaic.


The movie—which is another addition to local films named after foreign songs—mixed and matched several elements that made legitimate bankable stars out of the industry's prettiest faces and drove many other movie studio love teams toward box-office success.

Directed by Mark Reyes, the man behind the iconic '90s show TGIS and the GMA-7's hit telefantasya Encantadia, You To Me Are Everything plays it safe with the tried and tested plot line "rich boy meets poor girl" angle. Only this time, their fortunes are reversed, with the simple girl "from the beautiful mountains of Benguet" thrust into managing businesses worth millions and the filthy rich political scion left to fend for himself, struggling to keep his relationship intact while making ends meet.

THE PLOT. It all starts when the father of Rafael (Dingdong's character), a rich congressman is thrown into prison due to graft charges. With all their assets frozen or taken away, Rafael is forced to give up his ultra expensive house (so expensive, it's run by voice-controlled computer sytem), and live in his "condo," which is in fact an old house with leaky ceiling lent to him by his former assistant.

Meanwhile, in the Benguet highlands, one strawberry jam vendor receives good news that rarely happens in real life but seems to be a normal occurrence in the telenovela world. Turns out she is the daughter of a very rich man (and her mother was the rich man's laundrywoman), who died recently, leaving her wealth beyond her imagination. The strawberry jam vendor, of course, is Marian Rivera.
ADVERTISEMENT - CONTINUE READING BELOW

The lead actress plays Francisca, or Iska, who is loud, kooky, and street smart. She is even described by a snooty rich character as a "jejemon" (Interestingly, this could be the controversial Pinoy slang term's movie debut, too). According to UrbanDictionary.com, the term jejemon refers a person who uses contracted sms typing. It is composed using alternating caps and small letters and occasional numbers and punctuation. They are considered as the "new jologs."


Together with her endearing pet pig Snowy, Iska braves the big city and faces her new life as the richest jologs girl around, balancing her life as the absentee daughter to her mom in the mountains, an heredera and stepdaughter/sister to her father's family, and a member of their bank's board of directors. Iska also has to attend to her newly acquired possessions like her yacht and her high-tech house with voice-controlled computer system—which is Rafael's previous house.

Their worlds collide during one of Rafael's drunken nights when the taxi driver brings him to this old house because that is his address in the IDs inside his wallet. Rafael enters and "voice-controls" the house like it is still his own. This paves the way for him to meet the house's new owner Iska.


And for those who do not like reading movie reviews with spoilers, I'm sorry but I have to tell you that at first, Rafael hates Iska to the core. They fight like cats and dogs, but as time goes by, they start falling for each other, and before the film's end credits the unexpected pair are united by their love for one another. But of course, that's how most romance comedies go, so technically, it isn't a spoiler.

THE VERDICT. Unlike their previous movie team-up (the drama piece One True Love), You To Me Are Everything places Marian Rivera in a role where she shines best: a bubbly character close to her personality, or at least the public's perceived personality of her.


In this movie, Marian contradicts her mestiza self by speaking, eating, acting (and being poor), like most people in the majority masa cluster. Following the path previously tread by romance-comedy queens Regine Velasquez in the early 2000s and Sarah Geronimo just recently, we watch Marian show her true colors amidst the condescending looks of the rich and famous who rule the world she's trying to fit in.
ADVERTISEMENT - CONTINUE READING BELOW

Good thing she has Rafael, whom she hires as a business manager to help her run her business concerns. The former millionaire trains her to be Cheska—her new city girl persona that Rafael thinks is necessary for Iska to be easily accepted in her new world. Dingdong Dantes is already a polished actor when it comes to these kinds of role—the suplado guy in suit with business savvy and the suave speaking skills (think the Dingdong who guided the inept Dora Go Dong Hae in Kimmy Dora, but scheming and more coño). Looking beyond this typecasting, it is evident that Dingdong has the maturity needed to elevate him from the teenybopper stages to leading man status.

Marian and Dingdong, by playing roles close to their personalities easily carry the whole movie, especially in their moments of humorous banter and requisite kilig scenes. Their on-screen "clashing chemistry" makes up for the weak support cast peppering the whole movie (except for the performances of the thick-accented Jaclyn Jose and suspiciously nice Pinky Amador, who play the two women of Iska's father).


Moviegoers can look forward to the cinematography of the film, particularly the breathtaking Benguet backdrop. It was fun watching Marian Rivera play around the hanging bridge, much like a real native. In fact, most of the movie's surprises are in the scenes taken in the mountains (watch out for the techie tribesman and the "revealing" finale, which delighted the Dingdong-Marian fans during the advanced screening held last May 2 at SM Megamall).

But then, You To Me Are Everything reverts back to the same mold as its predecessors: the music video-inspired kilig sequences (one even used the same song played in a John Lloyd Cruz-Sarah Geronimo movie), the love-hate relationship of the two lead characters, the girlfriend leaving and the new one taking her place, the poor girl questioning the intentions of the guy who couldn't possibly love someone like her, and more.


The film's scriptwriters even use the perpetual punchline for people from the mountains (or provinces in general) as walking fashion disasters and have a tendency to be awkward around modern technology. The script also stereotypes city dwellers too as the ones who would verbally abuse and almost physically assault people in the party who aren't dressed according to the norm.
ADVERTISEMENT - CONTINUE READING BELOW

Fans of Marian and Dingdong will definitely love this movie for the pair's onscreen romantic moments and the triumph of their love amidst the worldly pressures and the vast differences of their lifestyle and upbringing. If that's what you're looking for, go ahead and watch this movie and you're guaranteed to squeal in delight, especially when the loveteam partners (and real-life sweethearts) lean over as if about to kiss each other.


But if you're looking for something new, the most you can get is inadvertent advice coming from Iska's gardener: a plant cannot survive in the ground where it does not truly belong.


This GMA Films and Regal Entertainment co-production will be screened in cinemas starting May 5, 2010.