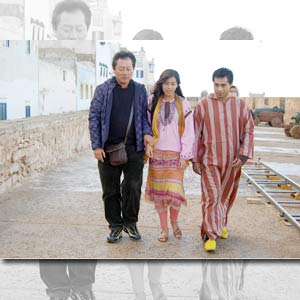 ---
The number of overseas Filipino workers continues to rise annually as our kababayans seek greener pastures and aspire for financial stability in foreign lands. Whether they work as nurses, doctors, caregivers, teachers, domestic helpers, or in any other profession, we cannot deny that they sacrifice a lot in order to give a better life for their families. For their selfless service and their willingness to risk loneliness and injuries abroad, Filipino overseas workers are heroes of our times.

Filipinas working as domestic helpers in the Middle East are the classic example of how devoted and passionate our countrymen are in making a difference in people's lives. Many sad stories abound on how these women suffer under the cruel hands of their employers, deprived of food and sleep; passports being withheld or not being given their proper salaries; or accused of crimes they did not commit. There are only a few cases being reported for tales of honesty and heroism. Although, there are lots of TV programs and film documentaries chronicling the lives of our OFWs, many of them are about the sad plight of our countrymen abroad.
ADVERTISEMENT - CONTINUE READING BELOW

Enter Emir, an original full-length Filipino musical written for the screen that extols the heroism of a Filipina OFW. Directed by multi-awarded director Chito S. Roño, Emir tells the story of a nanny named Amelia (portrayed by Frencheska Farr). She is an Ilocana who decides to work in the Middle East to help her family. She takes care of the Sheik's wife who is about to give birth, and later acts as the nanny to Ahmed, the Sheik's eldest son.


Amelia helps raise Ahmed and in the process, introduces him to the Filipino culture, values and language. She acts like a surrogate mother to the young prince and is even willing to sacrifice everything to protect him. Along the way, she befriends a Filipino based abroad (portrayed by Sid Lucero).


Based on true events, including the Gulf War and an actual meeting with a crowned prince who surprisingly speaks fluent Tagalog and Ilocano, Emir is a novel cinematic work on the diligence and bravery of a Filipino.
ADVERTISEMENT - CONTINUE READING BELOW

The other yayas featured in Emir are musical and theater luminaries such as Dulce, Beverly Salviejo, Liesl Batucan, Melanie Dujunco, Kalila Aguilos and Julia Clarete. Adding spice to the Filipino cast are Arabic-looking actors who delineate the roles of the child Ahmed played by Joshua Hourani and Mahdi Varjani and who underwent intense workshops to learn the Filipino language with an Arabic accent.

Rolando S. Atienza, chairman of the Film Development Council of the Philippines (FDCP) and executive producer of Emir feels that Emir will live up to its vision of paying tribute to Filipino OFWs through music, songs and dances that will capture the hearts of the Filipinos. "Let us all be proud of the contributions of our OFWs to the world, and be prouder more than ever, the dream of a world-class film industry becoming a reality."

Emir is full of breathtaking scenes shot in Ilocos Norte, Ifugao province and Morocco, where 70% of the film was shot in high definition with the RED Camera and presented in Dolby 5.1 Digital Surround Sound.
ADVERTISEMENT - CONTINUE READING BELOW

For Nestor O. Jardin, a co-Executive Producer of Emir , the movie is a dream project. "First and foremost, the material is good and the musical genre is something I'm comfortable with. We are also thrilled to have an outstanding artistic team led by Chito S. Roño. I am sure it will be a landmark film."


Atienza adds: "The larger-than-life sets...all the efforts, filming elements, use of top-notch talents and equipment, as well as the excellence of the performance of the different film collaborators of Emir , raises the bar for Philippine filmmaking."

Emir is produced by the Film Development Council of the Philippines (FDCP), in association with the Cultural Center of the Philippines (CCP) and Viva Films with the support of the Manila Broadcasting Company (MBC).

Emir will open on June 9, 2010 in theaters nationwide.