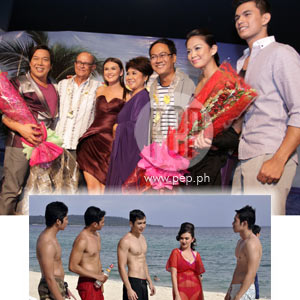 ---
During a solar eclipse, five people meet a freak accident on their way to a beach wedding, triggering a five-way soul-swapping phenomenon. Here Comes the Bride tells the comic tale of displaced souls and borrowed happiness. Let's meet these five characters.
1. Precy (Eugene Domingo)
The Character: The ageing godmother of the bride.
All she wants is: ROMANCE. Underneath her imposing demeanor and impeccable intellect as a lawyer, her ultimate dream is simple: to love and be loved.
Her soul goes inside the body of: Medelyn
2. Medelyn (Tuesday Vargas)
The Character: The harassed Ilongga yaya of the bratty ringbearer.
All she wants is: WEALTH. She wants to help her family in the province. But with debts to pay and no diploma to boot, she is left with no choice but to endure her snooty employers and their misbehaving kid.
Her soul goes inside the body of: Bien
3. Bien (Jaime Fabregas)
ADVERTISEMENT - CONTINUE READING BELOW
The Character: The affluent but ill grandfather of the groom.
All he wants is: YOUTH. With his deteriorating health and non-existent sex life, he craves for a second shot at life.
His soul goes inside the body of: Toffee
4. Toffee (John Lapus)
The Character: The flamboyant makeup artist (a.k.a. image stylist).
All he wants is: BEAUTY. And with beauty comes boys... lots and lots of boys!
His soul goes inside the body of: Stefanie
5. Stefanie (Angelica Panganiban)
The Character: The gorgeous soft-spoken bride who has been saving herself for her long-time beau Harold (Tom Rodriguez).
All she wants—the marriage of her dreams.
Her soul goes inside the body of: Precy
When these five dissimilar characters swap bodies, they bring with them five times the mayhem and laughter. Here are the top five reasons that made Here Comes the Bride a deliciously entertaining comedy.
REASON NO. 5. THE HUMOR.
ADVERTISEMENT - CONTINUE READING BELOW

Here Comes the Bride is filled with sexy banter and snappy punch lines. There is a negligible share of comedic excess and repetitive jokes but they were, as I said, negligible. But when the jokes work, they work and you can't help but laugh hard.
REASON NO. 4. THE MORAL OF THE STORY.

Ninang Precy (Eugene) wants romance and finds a determined suitor asking her to elope with him. Yaya Medelyn (Tuesday) wants wealth and finds oodles of money for her taking. Lolo Bien (Jaime) wants youth and finds himself making love to a girl half his age. Toffee (Sweet) wants beauty and finds a good-looking groom who will finally make her feel like a woman.
Although they are aware of the soul-swapping incident, these four characters keep mum about what happened. They'd rather play along than revert to their original selves. It's only Stefanie (Angelica) who wants her old life back. This conflict, though underdeveloped, adds a surprising amount of depth to the story.
ADVERTISEMENT - CONTINUE READING BELOW
REASON NO. 3. DIRECTOR CHRIS MARTINEZ.

Chris Martinez penned critically-lauded comedies such as Bikini Open, Bridal Shower, and the sleeper hit Kimmy Dora: Kambal sa Kiyeme. In 2008, he made his directorial debut in 100 (starring Mylene Dizon, Eugene Domingo, and Tessie Tomas), which swept awards in Cinemalaya and made rounds in international filmfests such as Pusan and Marrakech. Here Comes the Bride marks Direk Chris's bid as a mainstream director. This film may not be his best work, but its charm and novelty isn't easy to dismiss.
REASON NO. 2. THE CAST.

This is the first Star Cinema-produced comedy in three years that is not topbilled by either Ai-Ai de las Alas or Vhong Navarro. Star Cinema decided to gamble with lesser known, yet equally talented, comedians instead. The five actors are asked to walk in each other's shoes. It's delightful to watch these comedians wear each other's personas especially in the deliriously funny final role-reversal sequence. Moreover, how often do you see John Lapus all butch and manly? He even makes love to Kai Cortez in this film. Tuesday finally gets the break she deserves. From a mistreated nanny, she transforms into a self-righteous and outspoken lawyer with ease.
ADVERTISEMENT - CONTINUE READING BELOW
REASON NO. 1. ANGELICA PANGANIBAN.

Although Angelica is technically a part of the cast, I'm singling her out as the top reason why I enjoyed Here Comes the Bride. Her wacky antics and over-the-top performance as a babaeng bakla is a spectacle you shouldn't miss. I've never seen such an effective sexy comedienne since Rufa Mae Quinto played the endowed dimwit in Booba and Boobita Rose.


Here are my five favorite lines delivered by Angelica's character:
There's a gay man inside my body.
Pagamit ng katawan mo, one time lang.
Achieve na achieve!
Lord, thank you for this face, this body... this pechay.
Apir, apir, apir! Hindi na uso yan! Wisik wisik na lang. Masdan mo ang beauty ko, tataas ang kilay mo.
Admit it, you sang that last one to yourself. Here Comes the Bride definitely delivers gags and laughs five times over!


This comedy film is produced by Star Cinema, OctoArts and Quantum Films. It has been graded B by the Cinema Evaluation Board and rated General Patronage by the Movie and Television Review and Classification Board. Here Comes the Bride is currently being screened in cinemas nationwide.