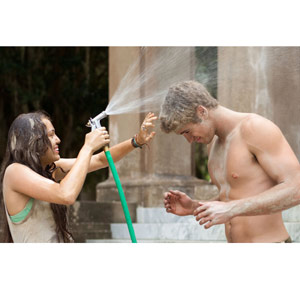 ---
Teen sensation Miley Cyrus is thrilled to tackle her first dramatic role in a film written by Nicholas Sparks, with Touchstone Pictures' The Last Song. She says that A Walk to Remember and The Notebook had a huge impact on her life. "His work has great, positive messages," notes the young actress. "To me, the best thing is that kids love it, but it's also mature enough to appeal to adults. It's unusual to find that kind of balance."

The Last Song is set in a small Southern beach town where an estranged father (Greg Kinnear) gets a chance to spend the summer with his reluctant teenage daughter, Ronnie (Cyrus), who'd rather be home in New York. He tries to reconnect with her through the only thing they have in common—music—in a story of family, friendship, secrets and salvation, along with first loves and second chances.

Cyrus says the predicament her character faces in the film rang true for her. "When her parents separated, she made some bad choices. But she starts to find her way to being a happier person through faith and love and friendship. Those are the most important ingredients to happiness and they are things in life that we sometimes overlook.

"I love music and I love entertaining," adds the teen star. "It makes me so sad to think of not doing this. So it makes me sad that someone with the talent that Ronnie has would deliberately cut herself off from it. Living without music in my life would be like having no air to breathe, and for Ronnie, it's much the same thing. She gives it up to prove a point to her dad and, really, she's just cheating herself."

Director Julie Anne Robinson was not familiar with her leading lady's previous work when she signed on to direct The Last Song, but she was quickly won over by Cyrus' natural talent and charisma. "She has this amazing star quality," says the director. "She just glows, and when she walks on the set, everybody knows it. Sometimes I cannot believe she's 16 years old. She's got a tremendous range."
ADVERTISEMENT - CONTINUE READING BELOW

The role required Cyrus to expand her musical horizons by learning piano, which she says she picked up quickly. "Maybe it was easier because I already play guitar," says Cyrus, who plans to continue her piano studies. "I learned not just how to play a song but how to play it like a classically trained musician, the way to sit, the way you look when you're at the piano, the posture, the fingering. It's a lot more discipline than just casual playing. The learning experiences are a part of my job I really love. So many people dream of learning something like this and I'm getting this experience along with making a movie."

The actress hopes this will be the first in a series of roles that allow her to stretch and grow. "I think it's really important to look for roles that are challenging," says Cyrus. "This came up at a crazy time. I had a tour, I was working on the show; I thought it might be impossible to fit this in, but it all fell into place. It was perfect, because that's what this movie's about—things coming together so beautifully against all odds."

Opening soon across the Philippines, The Last Song is distributed by Walt Disney Studios Motion Pictures International.