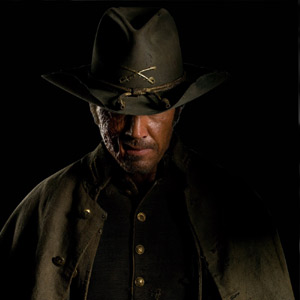 ---
Based on the legendary graphic novel, Warner Bros.' new epic adventure thriller Jonah Hex is about one man's personal quest for redemption against the vast canvas of the battle between good and evil. The film stars Academy Award-nominee Josh Brolin (Milk, No Country for Old Men), Megan Fox (Transformers) and Oscar-nominee John Malkovich (In the Line of Fire).

In the big screen adaptation, Jonah Hex (Brolin) is a scarred drifter and bounty hunter of last resort, a tough and stoic gunslinger who can track down anyone...and anything.

Having survived death, Jonah's violent history is steeped in myth and legend, and has left him with one foot in the natural world and one on the "other side." His only human connection is with Leila (Fox), whose life in a brothel has left her with scars of her own.

But Jonah's past is about to catch up with him when the U.S. military makes him an offer he can't refuse: in exchange for his freedom from the warrants on his head, he must track down and stop the dangerous terrorist Quentin Turnbull (Malkovich).
ADVERTISEMENT - CONTINUE READING BELOW

But Turnbull, who is gathering an army and preparing to unleash Hell, is also Jonah's oldest enemy and will stop at nothing until Jonah is dead.

Opening soon across the Philippines, Jonah Hex is distributed by Warner Bros. Pictures, a Warner Bros. Entertainment Company.