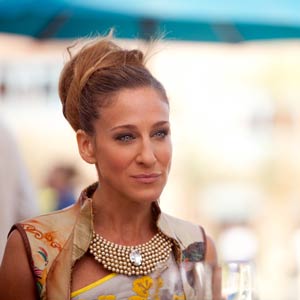 ---
Sarah Jessica Parker reprises her award-winning role as New York writer Carrie Bradshaw in New Line Cinema's Sex and the City 2, the eagerly anticipated sequel to 2008 film which grossed more than $415 million at the worldwide box office.

"It's very moving and truly thrilling to be part of something that people have connected with and have strong feelings about," says Parker, "something that they've welcomed into their homes every week and then gone to the theatre to watch. So we gave a lot of thought as to how we'd take them into the next phase, two years down the road."

For Carrie Bradshaw, an unconventional woman by any definition, doing what's expected of her has never been the norm, and her stance in this film is no different. As writer-director Michael Patrick King puts it, "tradition snuck in and it freaked her out."

In fact, Parker notes, "Carrie, who at one point thought she might not be the marrying type, is finally married to the love of her life, the man she spent most of her adult life pursuing." She further adds that Carrie is not alone in reaching a crossroads in her life. "All the women, at this point in their lives, appear to be content with having what they thought they wanted. But, as Michael Patrick so cleverly does in his writing, there's nuance and layers and complications under the surface."

In the film, when we first glimpse Carrie and Big in their home together, Carrie is feeling a bit unsettled in her settled, married life, wondering "what happens after you say 'I do.'" And because Carrie is also a writer, she has even gone so far as to express her feelings about the idea of marriage in her new book—a collection of comic essays in which she lampoons the idea of traditional wedding vows.
ADVERTISEMENT - CONTINUE READING BELOW

"Carrie has spent her career writing about being single, and for the first time she's writing about a different topic, being married," Parker observes. "The truth is, she doesn't know a lot about it yet. But she's learned that there's a difference between having a wedding and being married. She's been married for a very short time and she's not quite wearing it as comfortably as she wants to."

Parker adds, "Carrie likes to go out, she likes to live the city life, looking, watching, participating. One of the many things she's secretly struggling with is the idea of staying in, of these shackles she has figuratively projected onto herself. She's able to intellectualize it, but emotionally, she's not actually where she would like to be in the marriage. She wants to be able to say she feels good about the expectations she has had of her partner and herself. So for Carrie, it becomes a story about 'Yes, I had a wedding, but am I married? Am I married?'"

For the cast and crew of Sex and the City 2, working together throughout the years has become, perhaps, the best of traditions.

"I think what was most interesting to me about the 'Sex and the City 2' shoot was getting away with everyone," Sarah Jessica Parker says. "We were all removed from the most important people in our lives, our families, and that was very difficult, but I think it also helped us grow even closer than ever—and we've all been pretty close going on 12 years now. It was probably the best time we ever had as a group, and it was so great to have that experience."

Opening across the Philippines on June 2, Sex and the City 2 is distributed by Warner Bros. Pictures in association with New Line Cinema.
ADVERTISEMENT - CONTINUE READING BELOW