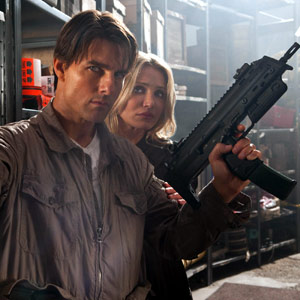 ---
Instead of being screened in July, the Tom Cruise-Cameron Diaz film Knight and Day books to an earlier opening on June 24 (Thursday) in Philippine cinemas.

Knight and Day shows a series of high-octane events that begins when June Havens (Diaz) accidentally bumps into Roy Miller (Cruise), a mysterious man who seems to have fallen out from the government's secret service. Popping in and out of June's life, Roy manages to pull June in a string of ballistic episodes that threaten their lives. Running away from every group who assures them of safety, Roy and June continue the globetrotting chase as they try to figure out the truth in order to survive.

The movie is directed by James Mangold (3:10 to Yuma, Walk the Line) from a screenplay he co-wrote with Scott Frank (Minority Report, Out of Sight). The film's executive producers include blockbuster makers Joe Roth (The Great Debaters), E. Bennett Walsh (Kill Bill) and Arnon Milchan (Mr. and Mrs. Smith).
ADVERTISEMENT - CONTINUE READING BELOW

Also starring in the movie are Peter Sarsgaard (An Education) as a federal agent relentlessly pursuing the couple; Viola Davis (Doubt) as a CIA director trying to decipher the true purpose of their high-wire activities; Paul Dano (There Will Be Blood) as an eccentric genius behind a revolutionary technology; and Olivier Martinez (Unfaithful) as a ruthless arms manufacturer. Co-starring are Maggie Grace (Taken) and Marc Blucas (Buffy the Vampire Slayer).

Knight and Day is a 20th Century Fox film to be distributed by Warner Bros. in Philippine theaters.