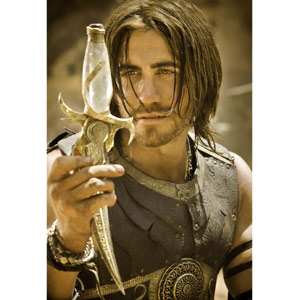 ---
"We love bringing audiences into new worlds they haven't yet explored," says legendary producer Jerry Bruckheimer, "and ancient Persia is one of the most wonderful of them all. It has such a rich heritage of imagination and fantasy, and we've tried to honor that in our new epic adventure Prince of Persia: The Sands of Time."

He adds, "We tackle epic films, from Armageddon to Pirates of the Caribbean, and Prince of Persia falls right in line with those kinds of movies. It's got enormous imagination, enormous scope and phenomenal action."

In the film, a rogue prince named Dastan (Jake Gyllenhaal) reluctantly joins forces with a mysterious princess Tamina (Gemma Arterton) and together, they race against dark forces to safeguard an ancient dagger capable of releasing the Sands of Time—a gift from the gods that can reverse time and allow its possessor to rule the world.

Jordan Mechner created his seminal Prince of Persia video game in 1989. "I was looking for a universe that hadn't yet been done in video games," says Mechner. "The early days of video games were like the early days of cinema. We looked to previously established genres, like sword-and-sorcery and science fiction, to find things that would work in this new medium."

Adds director Mike Newell: "I love the idea of it being a living myth that you are watching. This is a story that's absolutely real and extraordinary-a non-rational, non-physical universe as we now understand it. These things happen in this film."

Says Bruckheimer of Newell, "Mike can do just about any kind of movie, from Four Weddings and a Funeral, which is a dramatic comedy, to Donnie Brasco, a hard-edged, gritty street movie. And then he goes and does Harry Potter and the Goblet of Fire, which had just the right blend of adventure and mystical fantasy that we were looking for. Mike has a really wonderful palette that he paints from, and that's very important to us. We want an entertaining film that appeals to a broad audience, but also something special, that concentrates on character and story."
ADVERTISEMENT - CONTINUE READING BELOW

According to Gyllenhaal, the filmmakers had an interesting perspective about the film's fantasy backdrop. "It was Mike Newell and Jerry Bruckheimer's initial and brilliant idea that this film be based in reality. Mike said, 'I want this movie to be based in the mentality of sixth-century Persia, where they believed in fantasy becoming reality, that you could find a dagger that could turn back time and have no doubt in the possibility of that happening because that's what they would have believed back then.'"

"The more exquisite, the more dark, the more agonized, the more true to our fallible human natures a film can be—that's a good Brit picture," says Newell. "But lately, I've been really interested in great, big entertainment-'Prince of Persia' is exactly that—great, big entertainment—and I'm very pleased to have it."

Prince of Persia: The Sands of Time is currently being screened in Philippine cinemas. It is distributed by Walt Disney Studios Motion Pictures International.