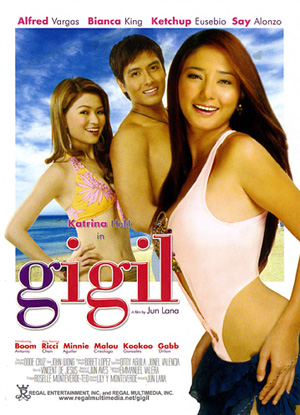 ---
Regal Films presents Gigil, Katrina Halili's launching movie. The light romantic-comedy tells the story of China (Katrina Halili), a call center agent who becomes jaded about love after his fiancé Felix (Boom Antonio) left her for a --- man
After that disastrous wedding that never was, she escapes to the scenic Boracay together with her best buddy Denoy (Say Alonzo). China wastes herself on alcohol and dances all night long, not minding messy hangovers the following day.
And just when she thinks her romantic life is totally doomed, she meets a mysterious and appealing diving instructor named Felix (Alfred Vargas). China suspects Felix is gay after observing he is vain, cooks well, wears an apron and most of all, keeps many gay friends.
After her initial assessment, China checks on Felix for all the mentioned qualifications of a gay man. However, a more confusing development happens as China overhears Felix talking with Kit (Bianca King) about marriage. As a result, China and Denoy will try to find out if Felix is indeed gay or straight.
ADVERTISEMENT - CONTINUE READING BELOW
During the course of their adventures, or misadventures, China and Felix find themselves trapped in another island. Will China find the answer to the lingering question, or discover a lot more about Alex, which could lead her to revisit that crazy little old thing.
Playing supporting roles for the movie are Ketchup Eusebio, Minnie Aguilar, Gabb Drilon, Ricci Chon, Malou Crisologo and Kookoo Gonzales.
The film is directed by Jun Lana.
Gigil premiered last November 20 at SM Megamall Cinema 6. The film had its regular run last November 22.