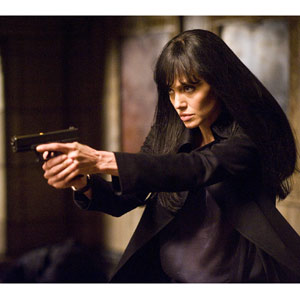 ---
Columbia Pictures' new, contemporary spy thriller Salt, starring Angelina Jolie, began life with an offhand comment Jolie made a few years ago. "I was meeting with [Sony Pictures Co-Chairman] Amy Pascal when it came up in conversation that she was getting ready to make one of the new James Bond films," Jolie remembers. "I playfully said, 'I want to be Bond!' That was our little joke, and then she found this project."

Screenwriter Kurt Wimmer had originally conceived the role of Salt to be played by a male actor. His original spec script was developed with producer Sunil Perkash, who then brought it to producer Lorenzo di Bonaventura and Amy Pascal at Sony, who in turn brought on director Phillip Noyce.


Like all motion picture projects, the screenplay then went through several drafts, but the major change to the script occurred when the filmmakers envisioned Jolie, an Academy Award®-winning actress and one of the few women in the world who can carry an action picture, in the title role. Very quickly, "Edwin Salt" became "Evelyn Salt."


"We had a really smart script we all collectively loved with an intriguing and complex character, so the idea of Angelina doing this suddenly felt like a no brainer," says Perkash. "She's an incredible actress who would bring such depth and realism to a very enigmatic character. Having that realism in an otherwise fantastical story was very important, and we were beyond thrilled when she responded to the role."

"When we changed the gender of the main character, we began to question the dynamic of every scene," explains producer Lorenzo di Bonaventura. "We didn't simply question whether a woman would make all the same choices, but also how the other characters would act or react differently, given that it's a woman. It was a huge change that rippled through the entire script."
ADVERTISEMENT - CONTINUE READING BELOW

In the movie, Evelyn Salt must go on the run to prove her innocence when a defector alleges that she's a mole, triggering Day X--the day when Russian sleeper spies awaken and begin the war against the United States.

Producer di Bonaventura says that the notion of sleeper spies is not fantasy. "There's no question that they exist," he says. "The CIA believes that they exist. There's something really mysterious and sexy about the notion that somebody could lie in wait--for decades, if necessary."

For example, it has been contended that Soviet Union, and then Russia, deployed covert agents masquerading as citizens in Western countries in the 1980s and 1990s as part of a network of intelligence operatives who would live under assumed names for fifteen to twenty years, or longer. When activated, these sleeper spies would then orchestrate "Day X," a chain of sabotage and terrorist attacks within the United States, the beginning of a large-scale war with Russia.


Sleeper spies for Russia have been discovered in recent years in Estonia and Canada, and the 2006 poisoning death of former FSB officer Alexander Litvinenko in London remains a mystery. Just recently, a group of people--assumed by their friends and neighbors to be living ordinary lives--were arrested by US federal prosecutors and accused of being part of a spy ring, living under false identities in deep cover in an effort to carry out assignments for Russia.

"I have no doubt that sleeper spies are out there," says Phillip Noyce, director of the film. "It's been a part of spycraft since day one. Even before reading Kurt Wimmer's script, I was fascinated by the question of what might happen if long at rest sleeper spies were suddenly called to action."
ADVERTISEMENT - CONTINUE READING BELOW

Opening across the Philippines on July 28, Salt is distributed by Columbia Pictures, local office of Sony Pictures Releasing International.