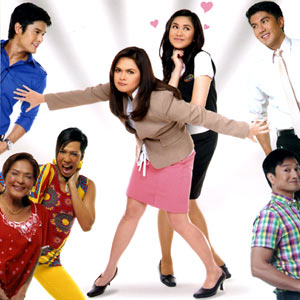 ---
Hating Kapatid is produced by Viva Films, starring two of the most successful artists today from two different genres.
Judy Ann Santos plays the role of Rica and singer Sarah Geronimo portrays Maria Cecilia, younger sister of Rica. They live with their hip grandma Lola Amor (Gina Pareño) and the three of them run a fireworks shop in Bocaue, Bulacan. Rica as the elder sister has developed parental ways ever since their parents (Tonton Gutierrez and Cherry Pie Picache) left for Libya more than a decade ago to work. She feels that she is responsible for raising Cecilia and in one incident becomes overprotective towards the young girl.
This set-up works well, but as Cecilia grows into a young woman, issues arise about her independence—something Rica isn't accustomed to. To make matters worse, their parents come home to the Philippines, bringing with them a surprise. For Rica, these new deivelopments will determine her real position in the life of Cecilia.
THE REVIEW. The plot (and title) looks like some hardcore drama, but this film is in fact a dramedy.
A fairly good one at that.
The story's pacing picks up fast. No dragging moments, thanks to the characters' wit and balanced humor. Comedian Vice Ganda, who plays the househelp, really knows how to handle his scenes in the movie just by being naturally funny.
Upon learning that Judy Ann would be paired up with JC de Vera (he plays Bong, Rica's boyfriend), I couldn't help but think that such a match up would look odd. But lo and behold, their roles as lovers were executed nicely and their scenes together really clicked. In all, they provided the "seriousness" of the movie with their issues and resolutions. Sarah and Luis Manzano, on the other hand (he plays Edsel, Cecilia's love interest), do comedy well together. There's not much to say about their chemistry but as a funny couple, I believe they've nailed it.
ADVERTISEMENT - CONTINUE READING BELOW
Scene exposure was equally distributed for the cast. The character and scene transitions made me appreciate the roles of each and every one. Supporting actor DJ Durano (who plays Rica and Cecilia's cousin) also has his moments of laugh-out-loud goodness.
Well, not all about this film is comedy. Of course, pitting in Judy Ann and especially Cherry Pie in one scene (kinda reminds me of Anak) will have people yank out some hankies. This scene pitting the two drama veterans is short but well worth the wait for drama addicts.
Like any other film, this one has its own set of groan-inducing moments. Product placements on some of Sarah's scenes were rampant enough to make me take out a pen and list it all down (fast food chain=1, feminine napkin=2, pawnshop=2, verbal and visual). A couple of editing and dubbing glitches also marred the experience a bit. What I also found peculiar about the film is that its characters (excluding Cecilia) didn't age at all.
Bad points mentioned and thrown aside, it is time to rate this film by Mr. Wenn Deramas. Overall, Hating Kapatid is a good family movie to watch on a weekend afternoon. If you're in the mood for laughs and a healthy dose of teary drama in one go, then this film is worth watching.


Hating Kapatid will open in cinemas starting July 21.