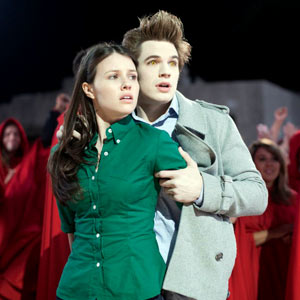 ---
At the heels of the phenomenal vampire tales come Vampires Suck, a parody of today's hit teen flick from the outrageous minds of Jason Friedberg and Aaron Seltzer (Date Movie, Epic Movie, Disaster Movie).

Vampires Suck pools together talented comics headed by Ken Jeong (Hangover) with Matt Latner, Jenn Proske and Chris Riggi. The movie bites when Becca (Proske) finds herself in the midst of vampire-human-wolf love triangle, taking her deeper into teen angst and romance as she decides between Edward Sullen (Latner) the vampire and Jacob (Riggi) the werewolf. In the midst of being torn and before she finally decides between Edward and Jacob, Becca must get around her controlling father who manages to embarrass her at all times. Meanwhile, Becca's friends deal their own teen romantic issues--all of which collide in their most awaited prom.

Vampires Suck opens very soon in theaters from 20th Century Fox to be distributed by Warner Bros.