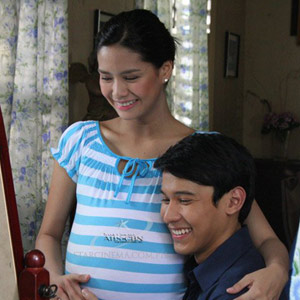 ---


An early pregnancy, differing family traditions and the pressure of marriage make I Do a very informative yet witty presentation for the younger generation. Many young people of today have little or no education about contraception and safe sex, and they are thus, oblivious to the early responsibility of raising a child and building a family.
This Star Cinema film depicts the life of college sweethearts Yumi Punongbayan (Erich Gonzales) and Lance Tan (Enchong Dee). Their love for each other is unmatched and their faith for each other is unchallenged, until Yumi's pregnancy surprises both of them. It also creates tension between them and their families since Lance belongs to a strictly clannish Chinese family who objects at Lance's proposal of marrying a non-Chinese girl. Yumi's family, on the other hand, wants them to wed as soon as possible.
With the help of their friends and each other, Lance and Yumi strive to make things work for the both of them, with Yumi bent on marrying her college sweetheart. For his part, Lance has to make the hardest decision of his life.

NATURAL ACTORS. I Do stars young love team Enchong Dee and Erich Gonzales (who portray the characters based on a true-to-life story). Though these stars are young, they tackle a mature topic and I'd say that Enchong and Erich really do know what they're doing. The depictions of their character's emotions are up to par. The lead stars went all out in every scene, whether it was drama or comedy. Aside from eliciting tears and laughter, their performances will make moviegoers relate to them even though not everyone might be dealing with teenage pregnancy. Their close relationship in real life certainly did wonders in this film. Every scene featuring Enchong and Erich was simply natural.
ADVERTISEMENT - CONTINUE READING BELOW
In short, they're just perfect for each other. I'd wish though that their next movie/TV series would tackle a much lighter topic.
The cast is relatively small, concentrating on Yumi and Lance's families and friends and their roles fit perfectly to the progression of the story. Yumi's parents (Pokwang and Dennis Padilla) set the right mood of comedy and drama while Lance's parents (Isay Alvarez and Richard Cepeda) give it a more serious tone.
Pinoy Big Brother Double Up big winner Melai Cantiveros is introduced as one of Yumi's friends and will be probably remembered for her colorful "I know, right!" quips.
Now while everyone did a great job in terms of acting, the technical aspect is less polished. The scene transitions are fast, but putting on too much of a good thing (Lance and Yumi's endless lambingan) can be a drag. People will immediately get the film's purpose and idea in the first 20-30 minutes of the film, but redundant scenes packed in much later will prove to be a bore. Such dragging scenes, however, are saved by the contributions of the film's comedic characters, like the instructor at Lance and Yumi's sex education class and Yumi's guy friend (played by Janus del Prado) and his abundant supply of quotable quotes.
The cinematography's great, but as I've said, the transition of a wonderful shot to another one at such a great speed can ruin the moment. The movie is helmed by Veronica Velasco (the same director of the 2009 Cinemalaya Best Picture Last Supper No. 3), who co-wrote the script with Jinky Laurel.
Overall, I Do is a wake up call for all young people to learn the consequences of early pregnancy and the issues it may pose. The film is successful at reaching out to the audience and teaching them these things without being too preachy. I suppose that young couples will think twice before taking their relationship to the next level after watching I Do.

ADVERTISEMENT - CONTINUE READING BELOW
As Yumi's dad (Dennis Padilla) would say, "Huwag kalimutan mag jacket!"