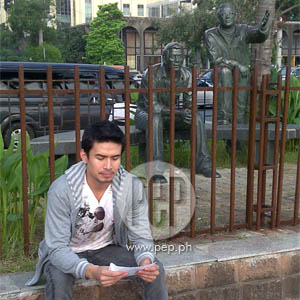 ---
In this still shot Christian Bautista plays a struggling Filipino musician named "Jayden," holding an e-ticket to Jakarta, Indonesia.
Jayden is seated behind the Ninoy Aquino statue on Baywalk, Roxas Boulevard, wondering what kind of life awaits him beyond
Philippine shores.
Christian Bautista will fly to Indonesia on Friday, October 15, to begin shooting his first full-length film abroad titled Jayden's Choir, which is produced by Delon Tio of Nation Pictures and Primetime Production. The project will be under the direction of Awi Suryadi, with screenplay by Awi Suryadi and Maggie Tiojakin.
Christian is also set to collaborate with famous Thai female singer Namcha for his upcoming two singles, which will be under a record label called Grammy—a part of the largest media conglomerate entertainment company in Thailand, the GMM Grammy Public Company Limited.
Aside from its music business, the company is involved in concert production, artist management, film and television production and publishing.