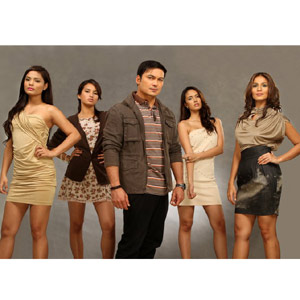 ---
We have never had a local horror movie with a premise this great in a very long time. Imagine, a scary movie filmed in an actual mansion that's been a breeding ground for countless ghost stories and urban legends. And it gets better: the movie is not just set in the house that has become a tourist attraction because of its haunted nature. It is about that house.

Regal Film's White House is the horror movie that blends together some of the Filipinos' favorite obsessions: scary urban legends, dabbling in the supernatural, reality shows, hunger for fame and money and even gossip about other families.

Directed by Topel Lee, White House can be split into two stories but it's not the usual multi-chapter horror movies being churned out nowadays. There is the story of the paranormal expert who wants nothing but to save his daughter's spirit from the mysterious soul-snatcher and the story of six reality-show contestants battling for a million pesos. Their paths cross when they all of them need to stay in the infamous mansion located on Leonard Wood Road in Baguio City. The father is searching for his daughter while the contestants need to stay as long as they can in the spooky horror house for the chance to win P1 million.

Starring as Jet the paranormal expert is former Regal Baby slash matinee idol Gabby Concepcion who has re-emerged in this decade wrapped in enigma. This should have made it easier for him to play his part, but oddly, it is a little difficult to watch Gabby onscreen. As a father whose daughter's life becomes in limbo, Gabby failed to deliver a performance that could earn the audience's empathy and compassion. In this movie, we still see Gabby Concepcion, the big-shot movie star and not the family man trapped between his supernatural powers and fatherly duties.
ADVERTISEMENT - CONTINUE READING BELOW

A diverse combination of cast members makes up the reality show wannabes. Mo Twister basically plays himself with his character Ken, the arrogant Am-Boy DJ who will stop at nothing to get the top prize. But even as he plays himself, we can see Mo still holding back and being awkward and so his supposed near-demonic scheming character is overpowered by his mischievous, smiley-faced real life image.


Sarah Lahbati and Jairus Aquino play siblings named Pim and LJ, respectively. Viewers should be rooting for them because of their sob story (and also for LJ being the only kid in the group), but that connection was missing, partly because of the lack of focus in their characters.


Lovi Poe as the delusional prostitute April has a slight edge over the rest of the cast for her effective portrayal of somebody else aside from herself. Joem Bascom as the overconfident male pageant veteran Dom likewise evokes a feeling of annoyance, which means he did his job well. Megan Young, who is stunning onscreen, sadly delivers a lightweight and possibly forgettable performance, except in one instance when she needed to shriek. Maricar Reyes, as reality show producer Corinne, acts like a pro, giving off the maldita vibe of a no-nonsense TV executive.

And then there's Iza Calzado. It is not clear whether Iza Calzado's character in the movie should be the big twist, since it was pretty much a giveaway that she is the requisite dead person walking and the White House's vengeful inhabitant the moment she appears on screen. Because of this, the moment when Gabby finally figures out she's a ghost and not an actual person becomes ridiculous (we all know that already and you call yourself a paranormal expert?).


There are also some small details in the movie that makes it inconsistent and raises some questions. For example, if Iza Calzado hated her children to death, why are they still so clean and nicely dressed? And how does the black lady choose which ones she should kill and which ones she'd just soul-snatch. And if everyone who steps in the house gets the black lady furious, how come Jet's wife was left untouched?
ADVERTISEMENT - CONTINUE READING BELOW

The movie's scary parts also rely on heavy sound effects and loud music, that sound like every music and sound effects we've heard in other movies of the same genre.


Save for two scenes involving a skirt and a refrigerator, there is hardly any eerie imagery that will leave you unsettled even as you leave the movie house. But it is possible for you to believe that the film is scary enough for kids (think Shake, Rattle & Roll, the most recent installments).

Regal Film's White House could have easily become the horror movie of the year. But it suffered for its screenplay's lack of depth, too many characters and storylines to focus on. White House also adds to the list of horror movies whose climax is easily solved by the use of a religious element.


On the bright side, White House is unique since it veers away from the idea that horror movies should have lessons at the end and a happy ending.

White House has promise. But we understand that movie-making isn't about story alone. And like other horror movies we've seen in the past, we see shades of outside influence and compromise for the sake of commercial viability.
Regal Films' White House is currently being screened in cinemas nationwide.