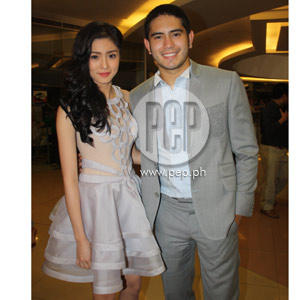 ---
In the local movie industry, it has been quite normal and predictable for two stars of a romance flick to to profess their undying love for one another just in time for their movie's release. Such wasn't the case for Gerald Anderson and Kim Chiu, perennial on-screen partners and presumed real-life sweethearts. News about their rumored separation and tumultuous post breakup relationship hit the headlines just before the showing of their latest Star Cinema movie: Till My Heartaches End.

Tears were shed on national TV, names were dragged, threats were allegedly given and a press con was marred by hyperventilation. Though unconventional, many simply viewed all these as parts of an elaborate PR stunt for the movie.

Planned or not, it generated interest (or worries, probably) in the film, particularly among the diehard supporters of Kimerald (the name given to Kim and Gerald's love team). Given the recent state of their relationship, how will their onscreen chemistry be affected? How will they act in love if they, well, have fallen out of love?

Luckily for Kimerald fans, their idols' personal lives should be the least of their concerns when watching the movie. Till My Heartaches End is not a movie that relies solely on Kimerald's bankability. It has a simple yet sincere story to stand on its own, plus a narrative style that helped make the storyline look rich and fresh, even when really, we could have already seen or read this love story somewhere.

Till My Heartaches End's writer and director Jose Javier Reyes chose a cafe as the place to witness the budding romance and the eventual troublesome tension between Agnes (Kim) and Paolo (Gerald). Everything begins in that one night in the cafe and the movie ends there as well (whether their relationship ends there too is something that should be left for the viewer to know). Agnes is a daughter to absentee parents who came to Manila for her nursing board review and exams. She lives with her cousin (portrayed by Matet de Leon) and her aunt (portrayed by Boots Anson Roa). Paolo is a son out of wedlock who will do everything to prove his worth to his father (portrayed by Mark Gil) and his stepfamily.
ADVERTISEMENT - CONTINUE READING BELOW

The two meet and sparks fly. Agnes stands by Paolo through and through: from his days as a hopeless job seeker who eats crackers on the sidewalks for lunch till he evolved into a real estate wonder boy who can outsell anyone in his office. A taste of the good life only pushes Paolo to dream bigger, leaving Agnes constantly adjusting to the lifestyle and environment she does not really want. As Agnes yearns for the days when there were just the two of them, Paolo becomes distant and he ultimately makes the choice between pursuing his dreams and preserving their relationship.

It is good that Kim and especially Gerald have had past experiences playing grown-up roles that it is no longer weird watching them as people making an adult decision of choosing between love and career. They have been lucky in this aspect. It is very rare for teenybopper stars to successfully crossover to doing mature roles with credibility and genuine emotions. In this movie, they certainly look and act their parts, far from their image when we first saw them in the first teen edition of Pinoy Big Brother.

However, we still see some failing in the pair's acting. It is strange that Gerald seems to have almost perfected his Tagalog when he was acting for their soap Tayong Dalawa but his Amboy twang is once again noticeable. Though his facial expressions are sometimes spot on, his voice tends to sound robotic and overly manipulated. Kim, meanwhile, needs to learn how to vary her acting because there seems to be little difference in Agnes from all the mature characters she played in the past. But clearly, Kim delivers when it comes to the waterworks (her character is crying almost half the movie), but she could have added more energy in scenes where it is apparently needed, like during Agnes and Paolo's happier times.


Towards the end of the movie, Agnes and Paolo get separated by three years but there is hardly any change apparent in their characters. The director could have made the stars differentiate their speaking style or even their manner of dressing just to establish that the lovers have grown up since they last saw each other.


Viewers may notice that some of the supporting cast members aren't just there as mere human props. They are actually weaved effectively into the plot of the movie. Special mention should be given to Matet De Leon for her superb acting (and character) that lifts the movie's moods at the right times as well as Boots Anson Roa who effectively sympathizes with the character of Agnes.


Desiree Del Valle exudes a certain sexiness that would leave wondering if you hate her or love her character. [Ed.'s Note: When we watched the movie during the premiere night, we overheard fans saying "Bawal!" when Gerald's character kissed Desiree. Such is the loyalty of Kimerald fans to their idols]
ADVERTISEMENT - CONTINUE READING BELOW

And regarding the concern about the pair's chemistry--it doesn't really matter. The movie evokes tension, confusion, pain and suffering brought by love caught in between dreams and emotions. It is not about sweet moments, running in slow motion amidst rainbows and butterflies. But if you wonder if the pair still generates kilig among viewers, let's just say a number of high pitched shrieks were still heard in the cinema every time Kim and Gerald touched, embraced and kissed.

To sum it all up, it is the story that is really the strength of this film. It is raw, real and heart wrenchingly familiar. It also helps that it is in director Jose Javier Reyes' style to always connect his films with the realities of the present times.


In Till My Heartaches End, you will see families separated by overseas employment, Nursing board exam reviewers eating quail eggs (tukneneng) along Morayta, a boom in the condominium business and friends nagging each other about post-breakup moping and other stuff like Facebook--all part of the ordinary contemporary social scene that generates stories like that of Agnes and Paolo's.
Till My Heartaches End is currently being screened in cinemas nationwide.