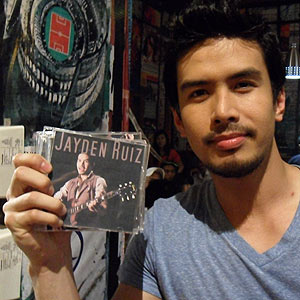 ---
Christian Bautista has started shooting for his first full length international film. The Filipino singer-actor plays the title character Jayden Ruiz in Nation Pictures' Jayden's Choir.


The film is also known by its Indonesian title Simfoni Luar Biasa. Christian's character is a struggling singer whose quest for fame is not quite successful in the Philippines. With his Aunt Penelope's help, he decides to fly to his mother who lives in Jakarta, Indonesia. There he takes on a job as a music teacher for special children.


The movie Jayden's Choir reportedly has a budget of half a million US dollars (equivalent to Php 225 million). It is directed by Awi Suryadi who has helmed 9 films in the past, including the hit Indonesian movie of 2010 titled I Know What You Did On Facebook.


Christian is supported by other well known Indonesian actors like Iwa Ribowo and a group of young actors with great singing vioces.


Jayden's Choir will premiere on March 17, 2011 in Jakarta, Indonesia. The filmmakers hope to show the film in the Asian region including the Philippines.


In one of the intense moments of the film, Jayden (Christian Bautista) confronts his mother Marlina played by famous Indonesian
actress Ira Wibowo. She walks away after he says, "You broke his
heart." Jayden is referring to his brokenhearted father whom his mother left when he was a young boy. This scene was shot at the parking lot of a school for special children.


Filming is expected to last a month in Jakarta, Indonesia. Other Pinoy cast members include a Filipina pop singer from the '90s named Maribeth (who is cast as Jayden's Aunt Penelope) and singer-stage actor Carlo Orosa who plays Luiz, Jayden's talent manager. In real life, Carlo is also the business manager of Christian Bautista's singing career in the Philippines.


Jayden's Choir (Indonesian title: Simfoni Luar Biasa) will have a premiere on March 17, 2011 in Jakarta, Indonesia.
ADVERTISEMENT - CONTINUE READING BELOW