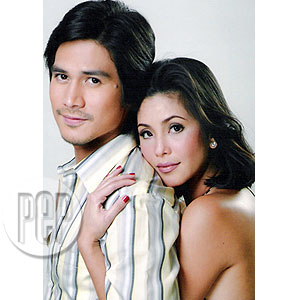 ---
Paano ko iibigin ang pelikulang ito? Let me count the ways.
Star Cinema and Viva Films pulled all the stops in this co-production to give fans their share of panghimagas just after the recently concluded soap-opera spectacle we call the election.
Let me put it this way, if the election was the main course consisting of lechon, sisig, and chicharon bulaklak, Paano Kita Iibigin? is our leche flan, bibingka, and halo-halo. Lord knows we deserve some dessert. And if any of those politicians (especially the trapos) who lost haven't had a heart attack yet, watching this Piolo-Regine film might just deliver the coup de grace.
The title, Paano Kita Iibigin?, is the basic question being asked throughout the film. Piolo Pascual plays Lance, a rich executive who enters a downward spiral in his life after his wife Tessa (Iya Villania) dies in a car accident. Regine Velasquez plays Martee, a jobless single mom to an asthmatic "pakialamerong bata" named Liam (Quintin Allianza).
Lance and Martee meet each other at a time when their lives are in shambles. But how do you move on when you still feel guilty for causing the death of your wife? And how do you love someone when that person can't seem to make up his mind? Will Lance choose to dwell on the memory of his dead wife or give love another chance? Tough questions indeed.
The movie, from the first scene to the last, immediately and unabashedly aims for the heart. And if its overflow of sentimentality doesn't kill you, Eugene Domingo's scene-stealing performance will.
ADVERTISEMENT - CONTINUE READING BELOW
Although Eugene (who plays the cook Liwayway) may never win the Best Actress Award for a Leading Role, all the award-giving bodies may very well hand her The Most Important Actress Award. Among the supporting characters in this film, Eugene is the only one who stands out—and she's saved those who've seen it from crying all throughout the film.
Another revelation here is Piolo himself. For too long, he's been playing the goody-goody knight-in-shining-armor role. But here, he goes the bad boy route with his motorcycle boots and 3-day stubble. And it's not just the look—there were several scenes in the movie wherein Piolo was actually believable as an overbearing manyakis who attempts to seduce the sweet Regine—now that's something for the ladies.
In her "most daring" role ever, Regine frolics on the beach with her leading man in a two-piece bikini. Add to that a love scene that might just be the most graphic and visually enticing love scene the two stars have ever made in their careers. Seriously though, Regine has never appeared in a bad film (and this film is not an exception). She seems to know what works for her, and in a genre where the tendency to go over-the-top is tempting, she plays it just right every single time.
Credit should also go to director Joyce Bernal. The lady is a master at manipulating the audience. She knows how and when to press our buttons. Just when we're on the brink of shedding more tears, she injects a dose of humor to make us laugh. And just when we think Lance loses Martee, well, I don't want to spoil it for you.
ADVERTISEMENT - CONTINUE READING BELOW
As a whole, Paano Kita Iibigin? is worth the price of admission. Don't watch the pirated DVD from your friendly neighborhood shops. Watch it in a movie theater with a friend, a lover, or with your parents. You will surely need someone to lean on when Piolo delivers the single most devastating line anyone can say to a hopeful lover, "I never got there."
To answer the question Paano Kita Iibigin?, watch the film, learn from the masters, and you might just get there.