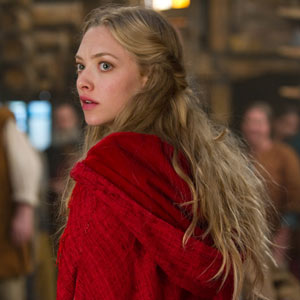 ---
PRESS STATEMENT FROM WARNER BROS:


"Amanda Seyfried plays the central character of Valerie in Warner Bros.' new fantasy thriller Red Riding Hood whose signature red cloak gives the story its name.

"In Red Riding Hood, Seyfried plays Valerie, a beautiful young woman torn between two men. She is in love with a brooding outsider, Peter (Shiloh Fernandez), but her parents have arranged for her to marry the wealthy Henry (Max Irons). Unwilling to lose each other, Valerie and Peter are planning to run away together when they learn that Valerie's older sister has been killed by the werewolf that prowls the dark forest surrounding their village.

"For years, the people have maintained an uneasy truce with the beast, offering the creature a monthly animal sacrifice. But under a blood red moon, the wolf has upped the stakes by taking a human life. Hungry for revenge, the people call on famed werewolf hunter, Father Solomon (Gary Oldman), to help them kill the wolf. But Solomon's arrival brings unintended consequences as he warns that the wolf, who takes human form by day, could be any one of them.

"As the death toll rises with each moon, Valerie begins to suspect that the werewolf could be someone she loves. As panic grips the town, Valerie discovers that she has a unique connection to the beast--one that inexorably draws them together, making her both suspect...and bait.

"The love triangle makes it more interesting because Valerie doesn't know who to trust," Seyfried says. "She loves Peter, but she is suddenly noticing little nuances about him that make her start to wonder. Could the love of her life be the werewolf? And she is also developing a closer relationship with Henry and sees what a good man he is, but questions arise about him as well. She has to figure out if what she wants is what she needs."
ADVERTISEMENT - CONTINUE READING BELOW

"Director Catherine Hardwicke (Twilight) says that Seyfried immediately came to mind in casting the part of Valerie. "From the first time I saw Amanda, I knew she was something special," Hardwicke affirms. "She had everything we needed for the character, especially because Valerie is not a classic damsel in distress. Amanda is tough, she's sexy, she's funny, she's vulnerable-she has it all. And the way she looks is straight out of a fairy tale. She has an ethereal quality, with the most amazing eyes that just draw you in."

"In turn, Seyfried says that this new take on an old fairy tale is what drew her in. "I don't know anyone who didn't read Red Riding Hood growing up, so it was cool to take a story we all know and have some fun with it. The thriller aspect was exciting to me, and the medieval setting made it feel gothic and added to the romance."
"Opening across the Philippines on March 11, Red Riding Hood is distributed by Warner Bros. Pictures, a Warner Bros. Entertainment Company."