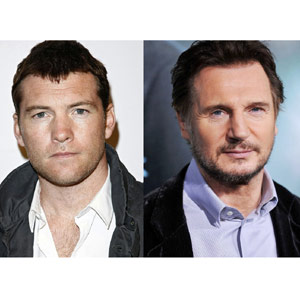 ---
PRESS STATEMENT FROM WARNER BROS:



BURBANK, CA—Principal photography has begun on Warner Bros. Pictures' and Legendary Pictures' epic action adventure sequel to Clash of the Titans, being directed by Jonathan Liebesman (Battle: Los Angeles). Returning to star in the film are Sam Worthington (Avatar) as Perseus, and Academy Award® nominees Ralph Fiennes (The English Patient, the Harry Potter films) as Hades and Liam Neeson (Schindler's List, Unknown) as Zeus.

"A decade after his heroic defeat of the monstrous Kraken, Perseus—the demigod son of Zeus—is attempting to live a quieter life as a village fisherman and the sole parent to his 10-year old son, Helius.

"Meanwhile, a struggle for supremacy rages between the gods and the Titans. Dangerously weakened by humanity's lack of devotion, the gods are losing control of the imprisoned Titans and their ferocious leader, Kronos, father of the long-ruling brothers Zeus, Hades and Poseidon. The triumvirate had overthrown their powerful father long ago, leaving him to rot in the gloomy abyss of Tartarus, a dungeon that lies deep within the cavernous underworld.

"Perseus cannot ignore his true calling when Hades, along with Zeus' godly son, Ares (Edgar Ramírez), switch loyalty and make a deal with Kronos to capture Zeus. The Titans' strength grows stronger as Zeus' remaining godly powers are siphoned, and hell is unleashed on earth.

"Enlisting the help of the warrior Queen Andromeda (Rosamund Pike), Poseidon's demigod son, Argenor (Toby Kebbell), and fallen god Hephaestus (Bill Nighy), Perseus bravely embarks on a treacherous quest into the underworld to rescue Zeus, overthrow the Titans and save mankind.

"Jonathan Liebesman directs the film from a screenplay by Dan Mazeau & David Leslie Johnson and Steven Knight, story Greg Berlanti & David Leslie Johnson & Dan Mazeau, based on the 2010 hit Clash of the Titans and the 1981 film of the same name, written by the late Beverley Cross.
ADVERTISEMENT - CONTINUE READING BELOW

"The film is produced by Basil Iwanyk (The Town), who also produced the previous Clash of the Titans, and Polly Cohen Johnsen (Cats & Dogs: The Revenge of Kitty Galore). The executive producers are Thomas Tull, Jon Jashni, William Fay, Callum McDougall, Kevin De La Noy and Louis Leterrier.

"Joining Worthington, Fiennes and Neeson in the international cast are Danny Huston, reprising his role as Poseidon, god of the sea; Edgar Ramírez as the traitorous god of war, Ares; Bill Nighy as Hephaestus, whose twisted, lame figure belies his Olympian origins; Toby Kebbell as Agenor, imprisoned thief and son of Poseidon who joins Perseus on his journey to Tartarus; and Rosamund Pike as Andromeda, the princess whose life Perseus once saved, and who now, as a queen, follows Perseus into battle.

"The behind-the-scenes team bringing this mythical epic to life includes director of photography Ben Davis; production designer Charles Wood; Academy Award®-winning editor Martin Walsh; and costume designer Jany Temime.


"Clash of the Titans 2 also reunites several talents from the previous film, including Oscar®-nominated visual effects supervisor Nick Davis; Oscar®-nominated prosthetics supervisor Conor O'Sullivan; and Academy Award®-winning special effects and animatronics supervisor Neil Corbould. Also on board are Oscar®-nominated makeup designer Paul Engelen and hair designer Kevin Alexander.

"Clash of the Titans 2 will be filming in studios outside London and will later shoot on location in Surrey, South Wales and in the Spanish Canary Islands on the island of Tenerife. The film is currently scheduled for release in March 2012.

"A Warner Bros. Pictures presentation, in association with Legendary Pictures, a Thunder Road Film, Clash of the Titans 2 is being co-produced by Furia de Titanes II, A.I.E. and COTT Productions and will be distributed in 3D and 2D worldwide by Warner Bros. Entertainment Companies."
ADVERTISEMENT - CONTINUE READING BELOW
Ed's Note: When content falls under "Press Statement," this means that the material is fully and directly from the company itself. The use of open-and-close quotation marks to envelope the entire text shows as much. This also means that PEP is not the author of the statement being read. PEP is simply providing the information for readers who may be interested.