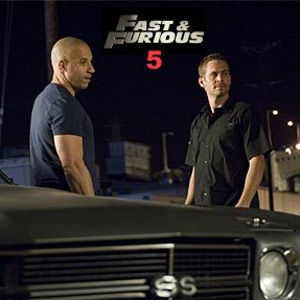 ---
PRESS STATEMENT:

"A testament to the franchise's staying power has been its ability to sustain relevancy and increase anticipation with an irresistible combination of memorable characters, blistering action and engaging storylines.


"After the first film's smash success in 2001, outcast cop Brian O'Conner was partnered with a new crew of savvy racers for 2003's 2 Fast 2 Furious. A new cast of young up-and-comers in 2006's The Fast and the Furious: Tokyo Drift hit the mark, and both films performed wildly at the worldwide box office. But Neal Moritz, the producer behind the global phenomenon, knew that if the series was to continue to thrive, the next chapter would need to go back to its roots and delve into the gritty underground world of the ex-con and undercover cop. These adversaries on opposite sides of the law shared a passion for racing...and a grudging respect for one another.
"The onscreen reunion of Vin Diesel, Paul Walker, Michelle Rodriguez and Jordana Brewster in Fast & Furious 5 was met with a thunderous audience reaction and a record-breaking opening weekend that resulted in more than $350 million at the worldwide box office. The film, which debuted domestically on April 3, 2009, had a record best non-holiday opening weekend for the studio and became the highest-grossing film for that weekend in motion-picture history. It confirmed that the heart of the franchise lay squarely where it all began: with Dom Toretto, Brian O'Conner and their extended family and close friends.

"The strength of Fast & Furious and now Fast Five is all about these guys who have a very distinct moral and ethical code that they live by—whether it's on one side of the law or the other," remarks Moritz. "Dom's got his code, Brian's got his code and even our newest character, Hobbs, played by Dwayne Johnson, has his. As these intersect and conflict with each other, which they do many times over, it adds great tension to the film's action. It's great to see when those two things ignite."
ADVERTISEMENT - CONTINUE READING BELOW

"Diesel is introspective about the rabid fan response that has kept this series thriving for more than a decade. "Not a lot of event films like ours are about family, or specifically, a family of misfits and outsiders. We saw that in The Fast and the Furious, and it continues to be true even on Fast Five. There's a brotherhood that's present in the franchise, and it speaks to the audience in a real way. It's the family the audience wants to be a part of with people they can trust and rely on...like Dom and his crew."

"Walker recalls the excitement generated by Fast & Furious: "When Fast & Furious came out and was so well received, we knew that the fifth one was coming. Normally I hear, 'Hey, when are you going to start the next one?' from fans. But this time, it was more of a statement."

"When it came to Fast Five, Moritz and Diesel, who return as producers, knew that the next chapter in the series had to add fuel to the franchise in a big way. They looked to director Justin Lin, whose work on the previous two Fast chapters illustrated his knack for melding strong character-driven story with white-knuckle action. He was just the director to dispel audiences' suspicion of anything that smacked of "been there, seen that."
"The filmmaker, a fan of the franchise since he saw The Fast and the Furious on its opening weekend when he was a film student, knew exactly what he wanted. It would be a one-two punch of inspired casting coupled with jaw-dropping action.

"He knew if he were to helm his third film in the series, the expectations from the fans would be huge. Lin offers: "I know the action in this one is bigger than the last two combined. There are about six action pieces in this movie, not just car chases, but foot chases and a heist as well. It's just jam-packed." He understood that everything had to be bigger to appease an audience hungry for action, but no action sequence would make sense without a great story that delved into where our heroes were in their struggles to protect family while on the run. Lin collaborated with another series regular, screenwriter Chris Morgan to ensure that their joint vision was reflected in the script.
ADVERTISEMENT - CONTINUE READING BELOW

"As a fan of the genre, Morgan was entrusted to help director Lin conceive of a premise that would surpass their previous efforts. He says: "For me, each chapter in this franchise is an extension of the first one, and they each get bigger. It is always a privilege to be able to revisit a good character-driven story. This franchise is more than street racing and tuner cars; it really is about this larger family and community of racers."

"Morgan and the director share a collaborative working style and, over the course of developing and filming the previous Fast films, the two developed their own shorthand. "Jumping into production, like we did on Fast Five, forces everyone to be clever," Morgan explains. "Justin and I come at story points from different angles but something happens in that room when we sit and talk about the story, and we always end up going down a road that we both love."

"The idea of assembling more alumni had been floated around during preproduction of Fast & Furious, but it had been ultimately shelved when the storyline began to focus more on Dom and Brian and the women in their lives. The premise lingered, however, and the team returned to the idea after the film's record-breaking release in 2009. Shares Moritz: "Bringing everybody back was sitting in the back of our heads when we did the fourth one. Once we saw the audience reaction to Fast & Furious' combination of Vin, Paul, Jordana and Michelle, we all had that collective 'wow' moment. There's this storied history for each of the characters throughout the franchise so it begged the question, 'What if we brought them all back?'"

"Diesel always saw the Dom-Brian arc as a series that could easily play out with another chapter. "I very specifically wanted to continue the story and always envisioned it as three stories, starting with The Fast and the Furious, Fast & Furious and now Fast Five," he states. The objective for this installment was to bring in different characters from the franchise and put them all together and have a lot of fun.


"Fast & Furious 5 will open in Metro Manila cinemas starting May 4, 2011."
ADVERTISEMENT - CONTINUE READING BELOW
Ed's Note: When content falls under "Press Statement," this means that the material is fully and directly from the company itself. The use of open-and-close quotation marks to envelope the entire text shows as much. This also means that PEP is not the author of the statement being read. PEP is simply providing the information for readers who may be interested.