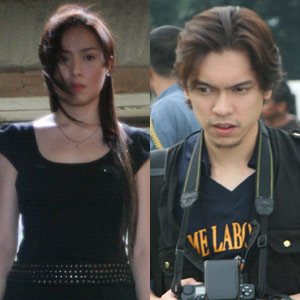 ---
Yes, it has come to this. Pinoy horror movies anchored on superstition. We had it before with films like Sukob (2006) and Feng Shui (2004). This time, a house standing on a convergence of three roads, or tumbok, promises to be a slice of hell on earth.


I saw Topel Lee's Tumbok for Viva Films when it started showing in cinemas last Wednesday. It faces stiff competition from Hollywood movies that are currently being screened locally.
I had hoped that being in a dark cinema house with few other people would amp up the scare factor. But there were too many distractions to feel the scare, really.


The movie has a simple plot but too many false turns and unnecessary scenes tend to slow down the narrative.


Young couple Grace (Cristine Reyes) and Ronnie (Carlo Aquino) inherit a unit in a dilapidated condominium from his deceased father. It was the old man's dying wish, however, that they do not go there. They move in, nonetheless, charmed by its overseer Mark (Ryan Eigenmann). The couple discover later on that the building is inhabited by strange tenants, and haunted by apparitions and misfortune.


A string of deaths and bad luck brings them face to face with family secrets and the gravity of their situation.


Despite the many twists and turns, the plot is quite predictable. I wish Direk Topel had exploited the location to set the mood, make the feeling of terror linger long after the viewer has left the theater.


If there is anything enjoyable in the movie, it would be the sight of Cristine–so young and so pretty–walking around in her pantulog and pambahay for about three fourths of the movie. The chemistry between her and Carlo is also very convincing.


Prior to the release of the movie, there was so much hype over the intense love scenes between the two. I won't spoil it for you so you have to watch the movie yourself.


The Cristine-Carlo tandem is not exactly a swoon-worthy team up but a match of opposites. Cristine was womanly but kittenish. Carlo, on the other hand, was boyish of face but manly and stern in demeanor.


Carlo can definitely be counted on to make his character alive and appealing. The brilliant actor definitely imbued his role with depth and a subtle sexiness.


In a scene wherein he apprehends three young rufians who would later cause an explosion in their unit, he calmly told them to tone down their noise. When the three begin taunting him, he simply shows them his police badge and through his eyes and manner, conveyed that he is not to be messed with but he does not want trouble either.


This movie could have been something else given more heart, philosophy and, maybe time.
ADVERTISEMENT - CONTINUE READING BELOW