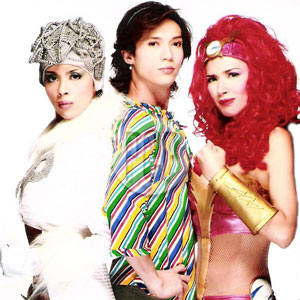 ---
Fantasy movies (Enteng Kabisote 3: The Legend Goes On And On And On, ZsaZsa Zaturnnah, Super Noypi) and suspense-horror movies (Matakot Ka Sa Karma, Shake, Rattle and Roll 8, Ligalig) make up most of the nine entries for the 2006 Metro Manila Film Festival-Philippines (MMFFP). Other entries are Mano Po 5: Gua Ay Di and Kasal, Kasali, Kasalo—which both fall under the light-romance genre—and Tatlong Baraha, an action vehicle.
There were originally 10 entries in this year's edition of the annual film festival but OctoArts Films' Short Time backed out at the last minute, leaving the field to just nine. As a result of this, the Executive Committee of MMFFP decided to simultaneously show all the entries on December 25 compared to the past years when some of the films are shown one week after.
Here's a sneak peek of the nine official entries in this year's Metro Manila Film Festival:
ADVERTISEMENT - CONTINUE READING BELOW
ENTENG KABISOTE 3: THE LEGEND GOES ON AND ON AND ON
Cast: Vic Sotto, Kristine Hermosa, G Tongi, Oyo Boy Sotto, Aiza Seguerra, Bing Loyzaga, Antonio Aquitania, Allan K., BJ Forbes, Paul Salas, Isabella de Leon, and Pia Guanio
Director: Tony Y. Reyes
Writers: Tony Y. Reyes and Isabel da Rosa
Production: M-ZET Productions/OctoArts Films
Plot: Enteng (Vic) is now a materialistic businessman. In director Tony's words: "Mayaman na si Enteng ngayon. Sa pagpasok ng maraming pera, nabago nang konti ang ugali niya. Naging materialistic na siya. Pera na ang laging importante sa kanya." Meanwhile, an alien named Zarkov (Antonio) teams up with Satana (Bing) and clones Enteng to totally ruin his relationship with wife, Faye (Kristine). With everything in peril, Enteng and Ina Magenta (G) will join hands once again to subdue evil forces.
Box-Office Potential: The first two Enteng Kabisote movies were both filmfest top grossers—Bossing Vic was crowned Box Office King for two consecutive years. We don't see why this third installment couldn't make it three in a row.
Awards Prediction: The producers did not make this film to win awards—its purely family entertainment—but will probably get one or two in technical categories.
ADVERTISEMENT - CONTINUE READING BELOW
KASAL, KASALI, KASALO
Cast: Judy Ann Santos, Ryan Agoncillo, Gloria Diaz, Gina Pareño, and Ariel Ureta
Writer & Director: Jose Javier Reyes
Studio: Star Cinema
Plot: Angie (Judy Ann) and Jed (Ryan) are two most unlikely people to fall in love with each other. She is a no-nonsense provincial girl-turned-television producer, while he is a laid-back rich bachelor. When his parents force him to migrate to the US, Jed does the unimaginable—he proposes to Angie. Hasty wedding preparations and the conflicts between their families almost drive them crazy. This is when Jed and Angie realize that married life isn't "happily ever after."
Box-Office Potential: Although this a "kilig" movie, the tandem of real-life sweethearts Juday and Ryan has yet to prove its box-office power. We predict though that it will land at least in the No. 4 spot.
Awards Prediction: This is somewhat lightweight compared to Juday's heavy drama films but with a lean filmfest year for really great acting vehicles, the young superstar is still one of the frontrunners. Also, this genre is very much the turf of the film's writer-director, Joey Reyes, so we are pretty sure that it will be in the running for major awards.
ADVERTISEMENT - CONTINUE READING BELOW
LIGALIG
Cast: Cesar Montano, Sunshine Cruz, Celia Rodriguez, Johnny Delgado, John Regala, Rebecca Lusterio, Gwen Garci, Katya Santos, Monsour del Rosario, Bayani Agbayani, Nonie Buencamino, Rommel Montano, and Alvin Anson.
Writer & Director: Cesar Montano
Production: CM Films
Plot: A series of killings takes place in a seemingly quiet town. Junior (Cesar), a taxi driver, is aware of the killings, but it doesn't seem to bother him. He's focused on his new relationship with Trixie (Sunshine), a nurse. Little does Junior know that the serial killer will hit close to home. Cesar adds, "Lahat may sayad... 'Yung buong istorya, talagang 'pag sinimulan mo, hindi nawawala 'yung danger. Parang anytime something wrong is going to happen."
Box-Office Potential: In a year where fantasy and horror films are aplenty, the male populace will still be divided-the suspense-thriller Ligalig and the only action film in this year's roster, Tatlong Baraha. We place our bet on Cesar's movie.
Awards Prediction: Cesar has proven that he is not only a very good actor but also an effective director—his Panaghoy Sa Suba, an entry in the 2004 MMFFP, won numerous awards. He will still be the top contender for the best actor plum this year but the other major awards seem a little too much to ask for—though Celia Rodriguez and Johnny Delagado are also strong contenders supporting acting categories.
ADVERTISEMENT - CONTINUE READING BELOW
MANO PO 5: GUA AY DI
Cast: Richard Gutierrez, Angel Locsin, Lorna Tolentino, Christian Bautista, Gina Alajar, Jaclyn Jose, Tirso Cruz III, Boots Anson Roa, Ketchup Eusebio, and Ella Guevarra.
Director: Joel Lamangan
Writers: Jun Lana, Dode Cruz, Andrew Paredes, and Abigail Lam
Production: Regal Entertainment
Plot: A romantic-comedy movie about a love between a middle-class veterinarian (Gutierrez) and a Chinese-Filipino girl (Locsin). However, the latter's parents (Lorna and Tirso) wants their daughter to be married to another Chinoy (Christian).
Box-Office Potential: Last year, the Richard-Angel starrer Mulawin: The Movie did not do very well at the tills. That might happen again this year—especially now that their film has a direct competition in the romantic comedy genre—Kasal, Kasali, Kasalo starring the tandem of Judy Ann and Ryan.
Awards Prediction: Comedy films are often ignored in the award nights so we do not expect much for this film-although Lorna, who again had to replace Dina Bonnevie for a role—has a very good chance for the best supporting actress category.
ADVERTISEMENT - CONTINUE READING BELOW
MATAKOT KA SA KARMA
Cast: Gretchen Barretto, Angelica Panganiban, Rica Peralejo, Tanya Garcia, Bianca King, Derek Ramsey, John Wayne Sace, Rafael Rosell, Nash Aguas, and Paul Salas
Writer and Director: Jose Javier Reyes
Production: Canary Films
Plot: This is a horror trilogy "about an antique shop where the pieces of the furniture each have their own stories from the past. The new owners get their little piece of horror," says Joey Reyes. In "Kama," Aleli (Gretchen, in her first movie after nine years) purchases an antique bed, not realizing that its previous owner of the bed is out to claim her son (Paul). "Aparador" is about a couple (Rica and Derek) who purchased an antique cabinet where a young man died inside before. In "Tokador", an independent woman (Angelica) gets a possessed dresser out to take her soul.
Box-Office Potential: Horror films directed by Joey Reyes in the past three years for MMFFP—Malikmata (2003), Spirit of the Glass (2004), and Kutob (2005)—were big hits so expectations are high with this fourth one. Plus, Gretchen is so hot these days because of her controversies and this is her first movie in years.
Awards Prediction: Marvin Agustin won last year for his role in Kutob but he's not in any of the three stories this time. So it's up to the three leading ladies—Gretchen, Rica and Angelica—to duplicate Marvin's feat. It might land in the three best picture winners with some technical awards, too.
ADVERTISEMENT - CONTINUE READING BELOW
SHAKE, RATTLE & ROLL 8
Cast: Bearwin Meily, Keana Reeves, Roxanne Guinoo, Joseph Bitangcol, Iza Calzado, Sheryl Cruz, TJ Trinidad, Keempee de Leon, Manilyn Reynes, Eugene Domingo, and Cass Ponti
Directors: Rahyan Carlos, Topel Lee and Mike Tuviera
Writers: Edzon Rapisora and Fairlane Raymundo ("13/F"); Iris Saldavia-Aniban Ben Cho and Fairlane Raymundo ("Yaya"); Lorenzo Valdez and Fairlane Raymundo ("LRT").
Production: Regal Entertainment
Plot: Just like the seven previous SR&R franchise, this has three episodes—"13/F," about a children's party held in a forbidden floor; "Yaya" is about a naughty kid who discovers that her new nanny is a vampire; and "LRT" is about a freak accident in which people find themselves trapped in an LRT coach, chased by a monster.
Box-Office Potential: This horror franchise have long lost its appeal to moviegoers and with another movie of this type—Matakot Ka Sa Karma—it might suffer at the box-office considerably.
Awards Prediction: Except for Herbert Bautista who won as best actor in the original SR&R movie way back in 1984, none of the stars who appeared in this horror franchise were recognized—and this year will is no exception.
ADVERTISEMENT - CONTINUE READING BELOW
SUPER NOYPI
Cast: Jennylyn Mercado, Mark Herras, Sandara Park, Katrina Halili, John Prats, Polo Ravales, Victor Neri, Aubrey Miles, Monsour del Rosario, and Andrew Muhlach
Director: Quark Henares
Writers: Quark Henares, Fairlane Raymundo and Lorenzo Valdez
Production: Regal Entertainment
Plot: Six childhood friends discover that their parents are the legendary Super Noypi-the most powerful superheroes in the land. But when their parents are taken hostage, the six—who also have super powers like telekinesis, invisibility, superhuman strength and speed, shape-shifting, casting spells and control of both fire and ice-stick together to save them and the world.
Box-Office Potential: If there's any film in this year's roster that can come close or even beat Enteng Kabisote, this should be it. With some of the most exciting young stars playing superheroes, Super Noypi is a potential blockbuster.
Awards Prediction: Its special effects should get some awards.
TATLONG BARAHA
Cast: Lito Lapid, Mark Lapid, Maynard Lapid, Phoemela Baranda, Jackie Rice, Bearwin Meily, Monsour del Rosario
Director: Toto Natividad
Writer: Ely Matawaran
Production: Violett Films
Plot: The father and sons triumvirate play three oppressed Filipinos during the Spanish regime—a cowardly farmer (Lito), a mentally challenged man (Mark), and a hunchback bellringer (Maynard). Because of their sufferings, they were blessed with powers to help their fellowmen.
Box-Office Potential: Senator Lapid's last movie, Lapu-Lapu, and Mark's two films this year were hardly noticed. But we really love Madam Violet Sevilla—the woman behind Violett Films that gave us Magnifico—so we hope that people will see this one.
Awards Prediction: By some miracle or grace of power, the senator might pull off a surprise victory.
ADVERTISEMENT - CONTINUE READING BELOW
ZSA ZSA ZATURNNAH ZE MOVEEH!
Cast: Zsa Zsa Padilla, Pops Fernandez, Rustom Padilla, Alfred Vargas, Chokoleit, Say Alonzo, Pauleen Luna, Christian Vasquez, Giselle Sanchez, and Glaiza de Castro
Director: Joel Lamangan
Writer: Dinno Erece
Production: Regal Entertainment
Plot: This revolves around the life of Ada (Rustom) who gulps a mysterious stone from the sky. After which, he turns into a heroine named Zsa Zsa Zaturnnah (played by Zsa Zsa). She defends truth, justice and liberty against all the menace of the world like zombies, giant frog and from the Amazonistas from Planet X, led by Queen Femina (Pops).
Box-Office Potential: This year's dark horse, we will not be surprised if it lands among the topgrossers.
Awards Prediction: Zsa Zsa's role as a superhero is the strongest among the best actress contenders in this year's filmfest entries. Pops and Rustom, playing a gay role for the first time after coming out, are also potential winners. With a director like Joel, this film is most likely one of this year's best works. Its special effects could also win in the technical categories.
ADVERTISEMENT - CONTINUE READING BELOW
With additional reports from YES! Magazine