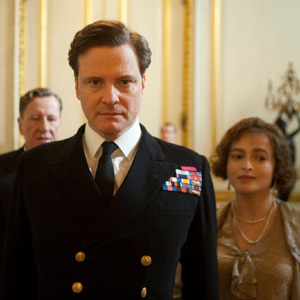 ---
PRESS STATEMENT FROM AYALA MALLS:


"Crowned as the Best Picture of 2010 at last February's Academy Awards, The King's Speech starring Oscar-winner Colin Firth, opens this Wednesday, May 11, exclusively at Ayala Malls Cinemas (Glorietta 4, Greenbelt 3 and Trinoma).

"Firth plays King George VI who, to overcome his stammer, is introduced to Lionel Logue, an unorthodox Australian speech therapist played by Geoffrey Rush. The two men become friends as they work together, and after his brother abdicates, the new king relies on Logue to help him deliver a radio broadcast at the beginning of World War II.

"Aside from copping the Best Picture prize, The King's Speech also won three other major Oscars—Best Director (Tom Hooper), Best Actor (Colin Firth) and Best Original Screenplay (David Seidler)—while cast members Rush and Helena Bonham-Carter earned nominations in supporting-actor categories.

"Rounding out the multi-award-winning cast are Guy Pearce, Derek Jacobi, Timothy Spall and Michael Gambon.
ADVERTISEMENT - CONTINUE READING BELOW

"Based on the true story of King George VI, The King's Speech follows the Royal Monarch's quest to find his voice. After the death of his father King George V (Gambon) and the scandalous abdication of Prince Edward VII (Pearce), Prince Albert (Firth) who has suffered from a debilitating speech impediment all his life, is suddenly crowned King George VI of England.

"With his country on the brink of war and in desperate need of a leader, his wife Elizabeth (Bonham Carter), the future Queen Mother, arranges for her husband to see an eccentric speech therapist, Lionel Logue. After a rough start, the two delve into an unorthodox course of treatment and eventually form an unbreakable bond.

"With the support of Logue, his family, his government and Winston Churchill (Spall), the King will overcome his stammer and deliver a radio-address that inspires his people and unites them in battle.
ADVERTISEMENT - CONTINUE READING BELOW

"Screenwriter David Seidler began reading about George VI after overcoming his own stammer during his youth and, using informed imagination, wrote about the men's relationship. Nine weeks before filming, Logue's notebooks were discovered and quotations from them were incorporated into the script."
Ed's Note: When content falls under "Press Statement," this means that the material is fully and directly from the company itself. The use of open-and-close quotation marks to envelope the entire text shows as much. This also means that PEP is not the author of the statement being read. PEP is simply providing the information for readers who may be interested.