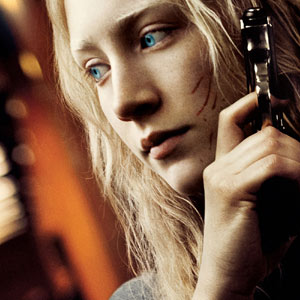 ---
PRESS STATEMENT FROM COLUMBIA PICTURES:


"A teenage girl goes out into the world for the first time—and has to battle for her life—in Columbia Pictures' adventure thriller Hanna. Directed by Joe Wright (Atonement, Pride & Prejudice), the film stars Eric Bana (The Time Traveler's Wife), Cate Blanchett (The Curious Case of Benjamin Button) and Saoirse Ronan (Atonement).

"In the film, Hanna (Ronan) is 16 years old. She is bright, inquisitive, and a devoted daughter. Uniquely, she has the strength, the stamina, and the smarts of a solider; these come from being raised by her widowed father Erik (Bana), an ex-CIA man, in the wilds of North Finland.

"Erik has taught Hanna to hunt, put her through extreme self-defense workouts, and home-schooled her with only an encyclopedia and a book of fairy tales. Hanna has been living a life unlike any other teenager; her upbringing and training have been one and the same, all geared to making her the perfect assassin.

"But out in the world there is unfinished business for Hanna's family, and it is with a combination of pride and apprehension that Erik realizes his daughter can no longer be held back.

"This turning point in Hanna's adolescence is a sharp one; she is separated from Erik and embarks on the mission that she was always destined for.

"Opening soon across the Philippines, Hanna is distributed by Columbia Pictures, local office of Sony Pictures Releasing International."


Ed's Note: When content falls under "Press Statement," this means that the material is fully and directly from the company itself. The use of open-and-close quotation marks to envelope the entire text shows as much. This also means that PEP is not the author of the statement being read. PEP is simply providing the information for readers who may be interested.


ADVERTISEMENT - CONTINUE READING BELOW