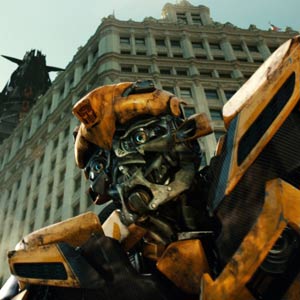 ---
PRESS STATEMENT:
"When a mysterious event from Earth's past erupts into the present day, it threatens to bring a war to earth so big that the Transformers alone will not be able to save us.
"The Transformers saga all began with two factions of warring alien robots which are called the Autobots and the Decepticons. In its 26-year year history, the franchise has grown to encompass toy lines, comic books, animation, video games and films, running through several generations. The comic books, with Japanese and British spin-offs, went through several series.
"In 1986, the cartoon became the film The Transformers: The Movie set in the year 2005. In 2007, a live action film of Transformers was directed by Michael Bay and produced by Steven Spielberg. The main focus of the film revolved around the creator of the Transformers, which in fhe film is described as the Allspark, as well as their home planet Cybertron. The film portrayed the Allspark as a large cube of energy that can create life from mechanical objects.
"Now, bigger, more thrilling and more action-packed comes the second sequel Transformers: Dark of the Moon from the same team that gave you the original live-action movie Transformers, directed by Michael Bay and produced by Paramount Pictures Corporation and stars Shia LaBeouf, John Turturro, Josh Duhamel, Tyrese Gibson, Rosie Huntington-Whiteley, Patrick Dempsey, Kevin Dunn, John Malkovich and Frances McDormand. It is distributed locally by United International Pictures through Solar Entertainment Corporation.
"Transformers: Dark of the Moon will be screened in cinemas starting June 29, 2011."

Ed's Note: When content falls under "Press Statement," this means that the material is fully and directly from the company itself. The use of open-and-close quotation marks to envelope the entire text shows as much. This also means that PEP is not the author of the statement being read. PEP is simply providing the information for readers who may be interested.
ADVERTISEMENT - CONTINUE READING BELOW