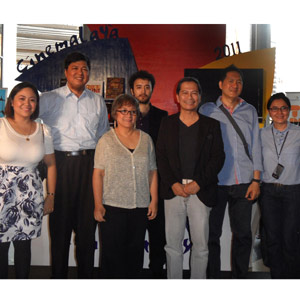 ---
PRESS STATEMENT:
"For the first time-ever, Cinemalaya opens two major venues for its 7th Cinemalaya Philippine Independent Film Festival, which has the theme "See the Unseen." Aside from the Cultural Center of the Philippines, the films are also being screened at Greenbelt 3 Cinemas in Makati.
"As Nestor Jardin, Cinemalaya Festival Director, put it, finally their dream of coming to Makati is now a reality. Having Greenbelt 3 Cinemas as a second major venue for the festival is part of the vision of Cinemalaya organizers to make the festival more accessible to the growing number of audiences that attend Cinemalaya. Ayala Malls Cinemas on the other hand is more than honored to host the prestigious Cinemalaya Festival as it brings the best cinematic works from various talented Filipino filmmakers.
"Greenbelt 3 Cinemas will show an all-digital film featuring nine New Breed Full Length films, ten Short Feature Films, eight NETPAC premieres, four Focus Asia (featuring films from Korea, Indonesia, Thailand, Malaysia and Japan) and four Directors Showcase namely Bisperas by Jeffrey Jeturian, Busong by Auraeus Solito, Isda by Adolfo Alix Jr. and Patikul by Joel Lamangan.
"Cinemalaya officially opened in Greenbelt 3 Cinemas last July 16 with the film, Maskara, by acclaimed director Laurice Guillen who also is the Festival Chairman of Competition. The film—which pays tribute to the late Johnny Delgado—stars Shamaine Buencamino, Tirso Cruz III and Johnny's daughter Ina Feleo who also wrote the screenplay.
"Visit www.sureseats.com for more information on the 7th Cinemalaya schedule at Greenbelt 3 Cinemas. You may also reserve and purchase tickets in advance through the website. Cinemalaya will run at Greenbelt 3 Cinemas from July 16 to July 24, 2011."
Ed's Note: When content falls under "Press Statement," this means that the material is fully and directly from the company itself. The use of open-and-close quotation marks to envelope the entire text shows as much. This also means that PEP is not the author of the statement being read. PEP is simply providing the information for readers who may be interested.
ADVERTISEMENT - CONTINUE READING BELOW