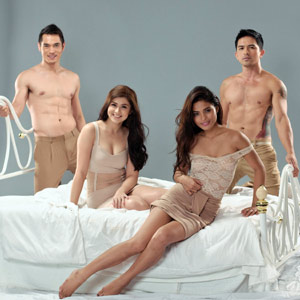 ---
The stars of My Neighbor's Wife—Dennis Trillo, Lovi Poe, Jake Cuenca and Carla Abellana—heat up the big screen with their individual and combined sex appeal to unravel a story about marital infidelity between two modern young couples.

Written and directed by Jun Lana, My Neighbor's Wife is a sexy drama produced by Regal Films. It is rated R-13 and approved without cuts by the Movie and Television Review and Classification Board.
Jake and Carla play Couple No. 1. Bullet and Jasmine are so rich that the wife considers her husband's job as co-owner of a bar just his hobby. Jasmine spends most of her time shopping either with her mom or her equally wealthy and bored friend (played by Dimples Romana). Bullet forbids her from working so she can tend to him and to their son Tommy (Yogo Singh) full time.
Dennis and Lovi, on the other hand, are working-class Couple No. 2, Aaron and Giselle. He's a medical-school graduate but instead of taking the board exams, he gets into failed business ventures and has to get a loan from Bullet to finance his latest venture, an auto-repair shop. She's a fairly hard-working medical representative but she still can't afford the little luxuries (e.g., jewelry and designer goods) that she longs for. Giselle wants these luxury items so she won't look shabby in the company of her husband's rich friends.
The lead characters live in one condominium but on different floors, with Couple No. 2 renting Couple No. 1's spare unit. Bullet and Aaron are best friends, which explains why the former is very generous with the latter. Their wives have become bosom buddies as well, so Jasmine also shares her blessings with Giselle, including a pair of earrings that would play a pivotal part in the discovery of the first case of infidelity.
ADVERTISEMENT - CONTINUE READING BELOW
Like any couple, they have their own share of marital woes. Bullet and Jasmine bitterly fight because of his philandering ways while Aaron and Gisele perpetually argue over money. While Bullet finds sexual satisfaction from his flings and Jasmine has turned cold on him, Aaron and Giselle continue to have a healthy and an even enviable sex life.
Giselle, by her own admission, is good in bed so Aaron willingly overlooks her shortcomings. Even while he was still punishing her for an indiscretion involving his best friend, Aaron still can't resist her charms. But when it was his turn to fool around with a supposedly conservative partner, he exhibits the same willingness and passion.
There is no doubt about the degree of heat brought to the big screen by the lead stars.
Lovi, with her delicious tan and trim body, is effortlessly sexy and alluring. But it's how she uses her physical assets in tandem with her thespic gifts and sensibilities that she's able to stand out in this film. Lovi has a clear grasp of her role as Giselle and she knows exactly how to make her character come alive on the big screen. She explores the different aspects of her character: sensual, sensitive, impulsive, humble, funny, persevering etc. As a result, the viewer really gets to know who Giselle is, how she turns over a new leaf in repentance of her sin against her husband and why her world crumbles after catching him in the arms of another woman.
Carla is perfect for the role of Jasmine, who's good-natured and kind most of the time except when she's reminded by how her husband has turned her into a plain and jealous housewife, and she snaps at him. She also tries to remain respectable and sensible even while having an extramarital affair by acting composed and in charge. This way, Carla is able to show the not-so-sunny but very human side of her character. She's especially a joy to watch in the scene where she confronts her husband and attacks his other woman in front of their friends while dining in a restaurant. If given more challenging roles and better projects, Carla will definitely go far as an actress.
ADVERTISEMENT - CONTINUE READING BELOW
Both Dennis and Jake share the zeal and commitment of their female counterparts but their talents are under-used since their characters are poorly developed. For starters, their being best friends and their courtship of their respective wives weren't properly established so the actors aren't able to explore other facets of their characters.


Dennis's character Aaron is particularly confused and confusing. Towards the end, he becomes villainous, and then acts like a victim again (like everybody else in the story seems to be).
The love scenes in the movie are done in good taste and they happen within the context of the story. Lovi and Dennis are at ease with each other in bed as every happily married couple must be. Jake's frustrated intimate advances towards Carla underscore the state of their marriage. Lovi and Jake's one-night-stand is as steamy as any forbidden foray under the sheets but Dennis and Carla's moments of passionate betrayal still exude tenderness because they're supposed to have a relationship, unlike the first pair.
But even when they're not creating heat between the sheets, Dennis Trillo, Lovi Poe, Jake Cuenca and Carla Abellana exhibit chemistry that make this sexy drama sizzle.
My Neighbor's Wife opens in cinemas starting Wednesday, September 14.