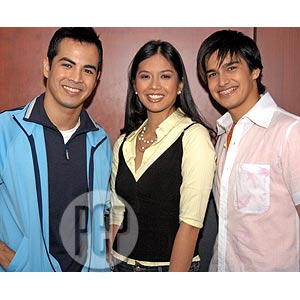 ---

From 400 aspirants down to only four winners, Drei Felix, Igi Guerrero, Mica Froilan, and Sanya Smith have all proven that they have what it takes to be the next MYX VJ in the recently concluded MYX VJ Search.
The winners signed their one-year contract with MYX Channel Head Andrei Allan Alvarez at the 14th floor of ELJ Building of ABS-CBN compound last Wednesday, August 22. They are joining the celebrity MYX VJs: Nikki Gil, Iya Villania, Luis Manzano, Karel Marquez, Geoff Eigenmann, and Heart Evangelista.
Alvarez explained that the four winners were chosen though text votes and, of course, the MYX team's own selection.
"Dati kasi we would just handpick them, tapos parang bahala na if people like them or bahala na if they like working with them. So those are the two things that we wanted to address—dapat gusto sila ng mga viewers and gusto rin namin silang makatrabaho.
"Gusto namin makita kung kumusta ang work ethics nila, kung paano sila makitungo sa tao, so lahat ng 'yon came into place. Kasi we've had experiences in the past na mahal na mahal nga ng tao, pero hindi naman namin siya makatrabaho dahil never siyang nagsu-show up on time, ganun. So we wanted a good balance."
THE NEW FACES. Unlike the other MYX VJs, the new group are not celebrities.
Drei Felix is actually not a newbie in hosting. He has worked as a reporter for the NCAA (National College Athletics Association) and he's a radio DJ at MAX 103.5. He is also a familiar face on TV commercials; his latest is for a biscuit where he plays the obnoxious guy in a train bragging about his biscuit.
ADVERTISEMENT - CONTINUE READING BELOW
Drei, who has been trying out to be a VJ for MYX for four years, was the texters' favorite during the search. His votes reached more than 13,000. As a disc jockey, Drei had an edge in dishing out adlibs and giving info about the latest music video.
"It's amazing, 'happy' actually is an understatement, to be part of the MYX family. It's really a dream come true for me," gushed Drei.
Igi Guerrero is a 23-year-old Italian who also works as a DJ in Monster Radio RX 93.1 for almost three years now. Aside from being a DJ, Igi sometimes does hosting in some events.
Igi did not expect to be chosen when he auditioned for the MYX VJ Search. In fACT, he was hesitant at first when he heard about it. But he was glad that MYX considered him to be one of the finalists.
Igi recounted, "When the auditions came out for the contest, my friend talked to us and we're like, 'Oh, we should check it out. We should try it out.' It just happened that it was perfect timing and I was like, 'Yeah, let's go for it.' We took it... A couple of days later, they called out and they said, 'You're in and let's continue with the contest.'"
Mica Froilan is the daughter of Nonoy Froilan and Edna Vida who used to be ballet dancers for Ballet Philippines. When asked if she also dances like her parents, Mica answered, "Unfortunately, I don't. I danced ballet until I was about eleven, but then I realized I'm not really flexible."
ADVERTISEMENT - CONTINUE READING BELOW
Instead of dancing, this 25-year-old girl pursued her career in the corporate world as a team leader in a call center. She said she always wanted to be a VJ but she was shy about trying it out.
She overcame her shyness when she found out that MYX was doing VJ Search. She narrated, "So I was, 'Okay, at 24 and I wasn't discovered yet despite my efforts of hanging out with my friends' house.' So I said, 'You know what, I'll just go for it. I'll try it out and take away my shyness.' And it worked!"
Mica added, "I think that actually, by way, I showed the other people—the shy ones—that they should get out from themselves and give it a try, you can make it."
Sanya Smith is a 23-year-old model who has also tried out in Monster Radio's DJ Search called Radio Idol. She got lucky and became a DJ for RX 93.1 for three years.
Luck was really on Sanya's side as she emerged one of the winners in MYX VJ Search. Unfortunately, she was not able to join the group during the presscon because she was in Cebu for other commitment.
THE CHALLENGES. For almost a month and a half, 11 VJ wannabes were given challenges to test their skills, not only in hosting but also in interviewing. After these challenges, only Drei, Igi, Mica, and Sanya survived and the new VJs of MYX.
Drei, Igi, and Mica detailed their most memorable challenge that they had experienced during the search.
ADVERTISEMENT - CONTINUE READING BELOW
Drei: "Interviewing Spongecola, it was a surprise challenge. It was us three who were inside the dressing room and we didn't know that thing. We didn't know what's gonna happen, they just asked us to interview Spongecola.
"It was really fun because at first we're kinda feeling what we have to do, what we have to ask them because they're giving us one answer to one question that we give them. Coincidentally, 'yun pala they were instructed that they are supposed to be like that. Parang, 'O ganito, pahirapan ninyo sila.' But towards the end we ended up laughing."
Igi: "One of favorite ones was the out of studio shoot when we had to shoot the show in [SM] Megamall ice rink.You know, you have to skate around, you have to showcase this style and stand up and smile after you've fallen. That was like, introduce a song and make it interesting. That was really fun to be able to do that. All the finalists, we all just had a great time there while doing our job."
Mica: "The biggest challenge for me was the Trinoma [challenge] because it was the first mall tour. Ironically, it wasn't really a formal challenge for MYX [VJ Search]. We were in between big bands, like Chicosci, Bamboo, so that crowd, they were like, 'Who are these people?' That was the real challenge—to get their attention. That was really like the first taste of how it is to be with that big band and people. That was a little bit overwhelming."
ADVERTISEMENT - CONTINUE READING BELOW


Starting September, these fresh faces will be mixed with the other present VJs on different shows in MYX. Alvarez, however, clarified that they are still thinking if they will cut down their number of VJs or will retain the other six celebrity VJs.
He explained, "Right now we're in the process of integrating the new batch of VJs with the existing team. And as far as graduating is concern, we're still reviewing who ultimately have to go. We have six plus four, which is way too many. [We'll probably trim it down to] six still. We'll see what happens.
"This September it will be all of them working together in the different show, different assignments we'll be giving them so. It's not a question of one getting booted out, but it's really time for people to move on."
So watch for Drei, Igi, Mica, and Sanya as they introduce requested videos and interview popular local music artists starting this September in the MYX Music Channel.