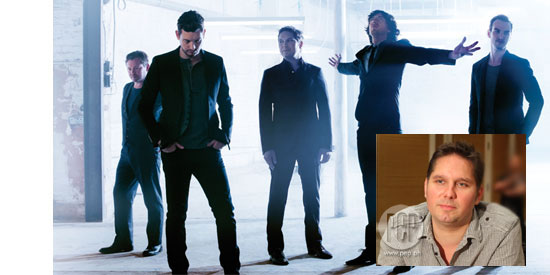 ---
Nervous and excited, this is how the alternative rock band Snow Patrol feels for their first ever concert here in the Philippines.


The Ireland-based band will do the third leg of their Fallen Empires Tour in Asia here at the Philippines. It will take place tomorrow, August 9, at the Smart Araneta Coliseum.


On August 8, PEP.ph (Philippine Entertainment Portal) and other entertainment press got the chance to interview the band's drummer and percussionist, Johnny Quinn.


"It's great to play for different places, seeing new countries as well," Johnny answered when asked how it feels to perform for the first time in the Philippines.


"We've been playing in Europe a lot. We've been back in Germany, in Holland and Austria for years.


"This is quite exciting, you don't know what the audience is gonna be like, you don't know if they know the songs, how they're gonna react, it's kind of unknown."


ADVERTISEMENT - CONTINUE READING BELOW
During the interview, which took place at the Shangri-La Hotel in Ortigas, Johnny narrated the band's experience while performing in Bangkok, Thailand.


"Well, 5000 to 6000 people knew every word of few songs, and we only sold three albums, so that was quite amazing. It was a very good experience.


"We played in South Korea as well, they were jumping up and down with every song, and we've never seen that before.


"So, it's quite amazing."


THE NEW SOUND. Snow Patrol's music has already penetrated the television industry.


Their hit single "Chasing Cars" got featured in the American TV series Grey's Anatomy.


Johnny had a heartfelt laugh then revealed, "We didn't know what Grey's Anatomy was!"


Yet, he sees it as a "good way of getting your music across."


"This show, Grey's Anatomy, goes around the world and it's good to know.


"It was a very good way for people to notice us. It's been a new way, a new radio, you know, music gets a lot better on TV."


ADVERTISEMENT - CONTINUE READING BELOW
The band also opted to give a different twist to their latest album, Fallen Empires.


Johnny revealed that they used "a lot of electronic" beats for the thirteen tracks of their latest album.


The band's drummer and percussionist admits that they're scared of how fans will react to the new musical approach they used in their album.


"I think everybody gets attached to an album, our songs.


"It's always difficult for a new song.


"But you have to [change] as well, instead of repeating yourself, they get bored of that. So, I think we have to keep the elements of what we're good with."


THE BAND. The altenative rock band Snow Patrol has been in the industry for fifteen years now.


Their plans of producing more albums just shows that they plan to go beyond that.


Though the band's musical approach has changed, its members make sure that their relationship remains the same.


ADVERTISEMENT - CONTINUE READING BELOW
What has kept their band solid for the past 15 years?


Johnny paused for a while then said, "We have seven years of failure in a sense, so it keeps us quite grounded.


"Knowing that we didn't come up that easily… and the thing is we get along well.


"We don't let anything become serious, become big and we sort it out before that happens so nobody kinda wants to leave.


"That's something we learned along the way, so we don't let anything come our way, we have open communication, have meetings a lot, see if anyone has a problem."