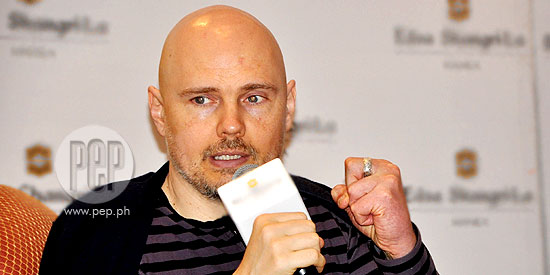 ---
The Smashing Pumpkins pushed through with their Manila concert despite the state of calamity declared in most parts of the metro.
The iconic American alternative band performed before Filipinos who displayed their enthusiasm at the Smart Araneta Coliseum last night, August 8. It is The Smashing Pumpkins's first time to hold a show in the country during their influential career spanning 24 years.
The Grammy-award winning band became popular in the international music scene for their second studio album Siamese Dream (1993) and their follow-up album Mellon Collie and the Infinite Sadness (1995) that reached No. 1 in the Billboard 200 album chart.
The four-man band is composed of Billy Corgan, the founder, vocalist and guitarist of the band; guitarist Jeff Schroeder; bassist Nicole Fiorentino; and drummer Mike Byrne. The band came to the Philippines as part of their global tour and promotion of their 7th studio album, Oceania.
The Smashing Pumpkins performed their heart out, fulfilling their promise to play for two hours. During the first half of the show, The Smashing Pumpkins made sure that their audience heard the whole of their new 13-track album, live.
ADVERTISEMENT - CONTINUE READING BELOW
Later into the night, the audience, mostly composed of yuppies and hipsters in their 20s and 30s, became even more alive as the band turned back time by playing 16 more songs from their timeless albums. These included "X.Y.U," "Disarm," "Tonight, Tonight," "Bullet With Butterfly Wings," "Soot and Stars," "Luna," and "Today."
The Smashing Pumpkins capped the show with a generous encore wherein Billy and the band held out their energy for 6 more of their classics: "Zero," "Ava Adore," "Cherub Rock," "1979," "Stand Inside Your Love," "Muzzle," and "Black Diamond."
The band was formed in 1988 by Billy and former rhythm guitarist James Iha in Illinois, Chicago. To date, The Smashing Pumpkins continues its legacy—one that is untainted by the "glamour of fame, the glamour of power, the glamour of control," as Billy stated in a press conference last Monday, August 6.
"I believe that there are still many people out there who want to listen to music to move them, whether or not they buy it or if they come back again, I don't care," the musician/producer/poet told the press at the EDSA Shangri-La Hotel.
ADVERTISEMENT - CONTINUE READING BELOW
Billy explained that the band's value still lies in the kind of music that genuinely connects with people who share their values in creating music. "People would say, 'Well, you know, you don't sell many records therefore you're not valuable.'
"But when you go to places like Manila and you meet these people… This is the new values of the world where people can choose what they want. Business can't push it down. The government can't play what they want, everybody has to find their own way.
"And in that way, we're connected. We have the same values."
He added, "What The Smashing Pumpkins means as a band is so much more valuable. What we mean to people is so much more valuable than our commercial value."