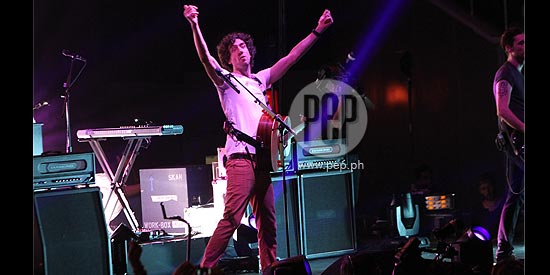 ---
Over 6,000 concertgoers packed the Smart Araneta Coliseum for Snow Patrol's: Fallen Empires 2012 Tour in Manila last night, August 9.
This marks the first time that the Irish/Scottish five piece band has performed in Manila. Snow Patrol is currently composed of Gary Lightbody (vocalist), Nathan Connolly (guitarist), Paul Wilson (bassist), Jonny Quinn (drummer), and Tom Simpson (keyboardist).
Snow Patrol started rocking Manila with "Hands Open," which made the audience go wild. For the first set, they sang three songs from their third album A Hundred Million Suns including "Take Back the City," "Crack the Shutters," and a single from their latest album Fallen Empires.
FALLEN EMPIRES. Gary Lightbody says about their latest album, Fallen Empires: "It's the longest album we've ever made by far but also the best. We took our time and I also had some bouts of writer's block. It's the first time it's happened for such a long time."
"I've had days when I haven't been able to write. Since 2009 I've gone through three writer's blocks but I'm glad because the results are great afterwards. They probably made me write better songs."


The band again wowed the crowd in their second set, which featured songs from their fourth album Eyes Open such as "Set Fire to the Third Bar," "Make Things Go on Forever," "Shut Your Eyes," and their biggest selling single to date "Chasing Cars."
Included also in the second set were two songs from their latest album Fallen Empires, "In the End," "New York," and a song from their third album, Final Straw.
Filipinos have been going through a very tough time for the past few days because of the heavy rains caused by the southwest monsoon. Still, more than 6,000 people braved the floods and made it to the concert.
Snow Patrol's vocalist, Gary Lightbody, started the third set by thanking Filipinos for their undying support of their music and for being such an amazing crowd.
ADVERTISEMENT - CONTINUE READING BELOW
"The Filipinos have showed such grace in these dark times. You are inspiration to the world," says Gary.
People became emotional because of Gary's statement. The vocalist then opened the third set with "Chocolate," the band's third single from their third studio album Final Straw. They quickly followed it with songs from their Fallen Empires album "Called out in the Dark" and "Fallen Empires." Lastly, he sang two songs from their Eyes Open album, "Open Your Eyes" and "You're All I Have."
After their last song, Gary again thanked the crowd and left the stage. Everyone was screaming for more, and a minute later the band went out and everybody went wild.
Gary expressed his deepest sympathies to those who lost their homes, family members, and other possessions. He introduced their encore song "Life-ning" by saying:
"I don't know what will happen if my home and my family were taken away from me. So we'll be singing this song out of respect for your humanity and kindness. We will never forget this."
Snow Patrol then wrapped up their first Manila concert with their 2009 hit single "Just Say Yes."
"We will be back in the Philippines as soon as we can," says Gary Lightbody.
The band sang 18 songs and made Filipinos forget about the heavy downpour during their two-hour concert at the Big Dome.