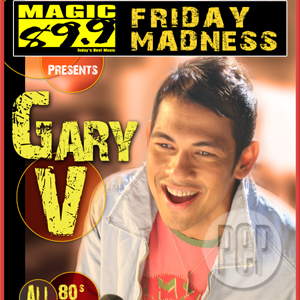 ---
Gary Valenciano will perform in a nostalgic '80s inspired party dubbed as "Non-Stop '80s Mix" tonight, December 15, at Eastwood City Central Plaza.
This outdoor street party is organized by FM station Magic 89.9 in celebration of its 20th anniversary this year. The event will be aired live on the radio show of John Tupaz, the 12-Inch Friday Mix.
From 8:30 PM, partygoers can enjoy watching clips from Gary V's movie Hotshots, as well as the coming-of-age film Bagets. Mr. Pure Energy's song "Growing Up" was included in the soundtrack of the 1984 movie that is now considered a prototype of local youth films that would come after.
Right after the fireworks scheduled to be released by 9 PM, Gary V will heat up the stage with the special participation of dance group The Manouevers.
FM station Magic 89.9 started operating in the country in January 1986 under the name SBS Radio Network, Inc.
Venue: Eastwood City Central Plaza
Date: December 15, 2006 (8:30 PM onwards)