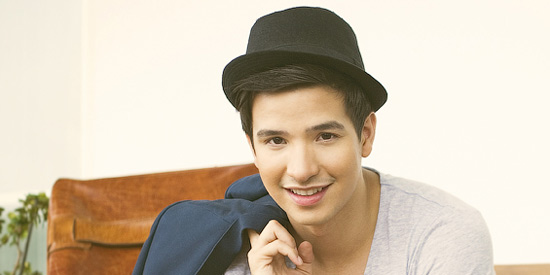 ---

Markki Stroem was introduced to the public via the talent show Pilipinas Got Talent Season 1, wherein he emerged as one of the grand finalists. Last year, the singer-songwriter-theater actor made full use of his talents when he released the original song and music video of "Steal Your Song" on MYX. It topped music charts and stayed there for a couple of months. The song highlighted the distinct sound of Markki and his unique songwriting style.


Because of the favorable response the song received, Markki was given the chance to star in the Make Me Sweat concert with the G-Force. Their performance was held last February at the Music Museum.


This October, the singer tagged as a "sexy soul/jazz artist" will release his debut album, Thousands of Pieces, which is produced by Cornerstone Music.


The CD features his carrier single: a jazzed-up cover of Carley Rae Jepsen's hit song "Call Me Maybe." Markki also offers a new version of Britney Spear's "Toxic."


But more than the covers featured in the album, Thousands of Pieces underscores Markki's gift of writing music. Original songs written and arranged by Markki himself depict various state of the heart, relationships and life. "Kung Pwede Lang Ibalik", "Illicit Activities", "Fall From Grace", "Iron Curtain" and "Exchanging Glances" are the other songs included in his debut album.



"I really consider this my 'baby' because I have been a part of the whole creative process," Markki was quoted as saying in a release provided by Cornerstone. "I am very thankful that I was given this chance to work on a very personal album like this."


He also added that he is thankful that he got to work with some of the most artistic people in the business: singer Zia Quizon, production house Generation M, and his own band.



Markki, who is part of the ASAP 2012 family, was given the chance to launch his album during the September 23 episode of ABS-CBN's Sunday variety show. The music video of "Thousands Of Pieces" (the album's title track) was premiered on MYX featuring Alodia Gosiengfiao and Pinoy Big Brother Unlimited Big Winner Slater Young.



Aside from being a musician, Markki is also currently working on two projects that will be shown before the year ends. He will be playing the character of Joe Jonas in Camp Rock the musical. He also has a sexy role as one of the lead cast members in the 2012 Cinema One Originals entry Slumber Party.


The singer-actor recently showed off his muscular body when he took part in this year's Cosmopolitan Bachelor Bash as one of the Top 10 centerfolds.



This Friday, October 5, Cornerstone Music, Magic 89.9 and Bonifacio Global City (BGC) will stage Markki's grand album launch at the Bonifacio High Street Activity Area at 7 p.m. with his band and some special guest performer/s.


Free admission.


ADVERTISEMENT - CONTINUE READING BELOW