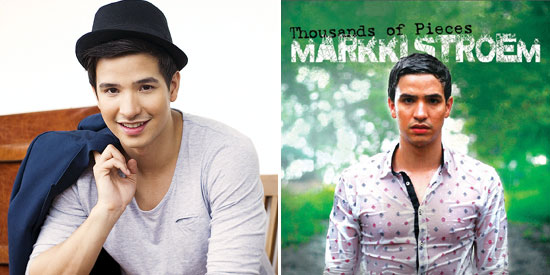 ---

More than two years after he emerged as one of the finalists of Pilipinas Got Talent Season 1, Markki Stroem has finally released his debut album, Thousands of Pieces.
His original single "Steal Your Soul," released last year topped the local charts and has now reached more than 98,000 views on YouTube.
Markki talked to PEP.ph (Philippine Entertainment Portal) and other members of the press about his album last October 5, just before his grand album launch at Bonifacio Global City.
The 24-year-old singer says he doesn't mind that it took this long before he finally launched his own album.
"Yes, it took years. But I'm actually happy that it came out when it did because I really, I put a lot of heart and soul into this.
"I wrote eight songs and I wanted to make its something different. Because I didn't want it to be too generic 'cause there's already that sound and I wanted to make it something new."
His jazz version of the hit song "Call Me Maybe," is getting a lot of airplay in local radio stations nationwide.
Was reviving "Call Me Maybe" a move to make the album more marketable?
"Not necessarily. Actually it wasn't supposed to be part of the album, we were looking for a Tagalog, whatever.
"And then I jammed with the band, I took the band into the studio. And I said, 'You want to try Call Me Maybe?' Five minutes, like we had the first draft. It was for fun…for fun lang, jokes.
ADVERTISEMENT - CONTINUE READING BELOW
"But I guess, I don't know. I've been getting a lot of very good comments on 'Call Me Maybe.'
"At least, the style has been presented. That there's already like, ah, so Markki sings the jazzy kind of style.
"So at least now it's easier to put out the originals, or some of them 'cause I have a Tagalog song called, 'Kung Pwede Lang Ibalik,' my first ever Tagalog composition.
"It's the second track in the album. And that would be my next single. After…maybe next month after, I will release on the radio, 'Kung Pwede Lang Ibalik.'"
He describes "Kung Pwede Lang Ibalik" as "done in a very kind of Up Dharma Down/Zia Quizon style."
FOUR GIRLFRIENDS. Among his musical influences are four female artists whom Markki refers to as his "four girlfriends."
"I have four girlfriends in my car. So it's my album and then four girlfriends, I have Adele. I have Esperanza Spalding, I have Lana del Ray, and I have Zia Quizon.
"And all of their albums are in my car. And it's just on shift, those four. And those are the four girls. And then I have Maroon 5, I have John Legend.
"But those four are my four girlfriends. They're the ones sitting next to me when I drive. Cause I write, sometimes when I drive. Traffic. And then it starts coming out.
"And then I put out my phone, like this, and then I record everything I'm singing."
ADVERTISEMENT - CONTINUE READING BELOW
Markki thinks of himself more of a musician than a singer but adds that his "marketing" side will always be there too.
"I think in the future I'll just be arranging things for people and writing things for people, I don't know, creating things for people. Uhm, because I like the process of creation.
"I took marketing so I like the business process of actually doing the actual creation before presenting it.
"Because you don't do the process if you're not the one producing it, if you're not the one directing it.
"You don't know what's happening. You don't know the whole framework of why things are going the certain way and why things aren't selling the right way.
"Because now, at least, I have an idea of how it is. And if you love something, you'll do everything for it," explained Markki.