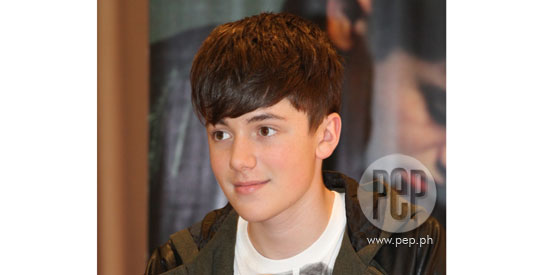 ---
When Greyson Chance says he wants to write "raw music," he means it.
In his extended play album titled Truth be Told Part 1, Greyson gives his avid fans a taste of what to expect in his upcoming album next year.
PEP.ph (Philippine Entertainment Portal) and other members of the press had the chance to meet Greyson this afternoon, November 12, at Max's Restaurant on Scout Tuazon, Tomas Morato, Quezon City.
The fifteen-year-old singer-songwriter told the Philippine media that in this album, he doesn't want to "overshadow" the meaning of the song with the rhythm.
So he composed the five tracks in this album as "raw" as possible, so the songs' messages could reach people's hearts easily.
Greyson defines "raw" music as something that uses fewer instruments in making a song.
The songs included in the Truth Be Told Part 1 EP are "Leila," "California Sky," "Take My Heart," and "Sunshine & City Lights."
ADVERTISEMENT - CONTINUE READING BELOW
Filipinos had the chance to watch Greyson live when he performed at Market! Market! in Taguig City and at TriNoMa Activity Center in Quezon City yesterday, November 11.
The teen singer also had a TV guesting this afternoon on GMA-7's noontime variety show Eat Bulaga!
GREYSON VS. JUSTIN. Since they are both of the same age range and were both discovered via YouTube, it's no wonder why Greyson is being compared to Justin Bieber.
"I'm not bothered at all," Greyson casually answered when asked if he's bothered by critics comparing him to Justin.
"I mean, I'm doing my own thing, he's doing his own thing, so we shouldn't be compared."
EMBARRASSING MOMENTS. Greyson can say that he's been very comfortable performing on stage, though he confessed that "I trip a lot on stage."
The teen singer admitted that he has had several embarrassing moments while performing in front of a crowd.
ADVERTISEMENT - CONTINUE READING BELOW
"There was this one show where I said, 'Thanks a lot, Minneapolis!' and this girl in front shouts, 'You're in Cleveland!' then I continued, 'my next song is…'" he relates with a laugh.
This 15-year-old performer hopes to inspire other aspiring singer-songwriters out there.
His advice to them: "Continue doing what you do.
"I love music, I love being on stage. I'd say, keep aiming high, [and] don't let anything bring you down."