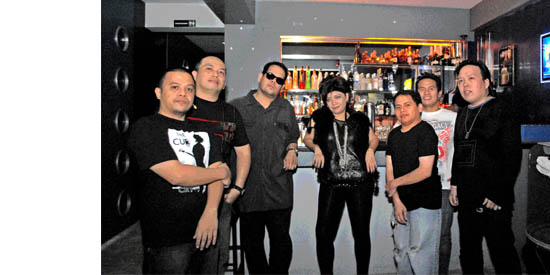 ---

The '80s are back!
Who doesn't remember the golden age of glam rock and heavy metal, when big hair, leather, and spandex were the order of the day?
Back then, the Rage Band was one of the hottest acts in Manila's live concert circuit, a well-oiled rock and roll machine that wowed audiences not just with their tight, seamless covers of Top 40 hits, but also with their flamboyant outfits, death-defying leaps, and other wild onstage antics.
Under the tutelage of its founder, Atek Jacinto, the group has had several incarnations since it officially disbanded in 1988, and continues to rock steady with its nostalgic brand of '80s rock and New Wave under the leadership of lead vocalist Marissa Buñag— the only remaining original member.
Comprising the current lineup are Ryan de Lara on guitar, Q-Nie Alcantara on drums, Jay dela Cruz on bass, Nel Pilar and Gino Cruz on keyboards, and Ray Olaer on second vocals.
ADVERTISEMENT - CONTINUE READING BELOW
Despite having been known as a cover band over the past 25 years, the Rage Band is ready to transcend its loud and colorful legacy via a special concert called Courageous at the Musika Bar, Greenhills, on November 24.
Aside from performing new songs, the band will also be bringing back their classic hits including "Shy Eyes," "Whiplash," "Believe Me," and "Nice Girls Do."
In retrospect, the concert title represents a coming full circle of sorts for the group, and on a more personal level, a cathartic experience for lead singer Marissa Buñag.
"Just like most artists, we come to a point where we question our identity and real purpose in life," she says.
"And it takes a lot of courage to stand up and face the world without the masks or security blankets.
"In effect, this is us saying, 'This is what we want to do, not what you want us to do.'"
ADVERTISEMENT - CONTINUE READING BELOW
In a way, the all-original repertoire also beefs up the band's resolve in pushing the envelope for OPM.
Asked to name the band's greatest legacy, Marissa pauses wistfully and says, "I don't think we can claim to any legacy just yet, but this I can say: In 1983, that was the first time that any band had the courage to have three female frontliners in spandex, boots and chains, jumping and prancing onstage with wild abandon, and even— in my case— falling off the stage at some point and getting up again … still singing!"