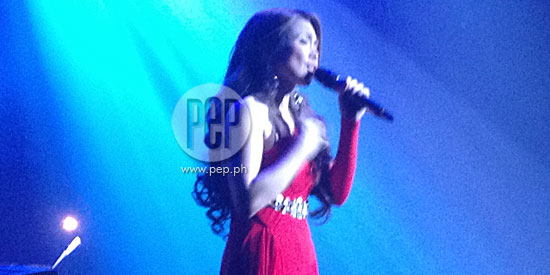 ---
A stronger and daring Nina wowed the crowd at the Music Museum last January 25, 2013.
"No lies… No excuses… I am Nina… Reborn," this phrase became the signal to start the Soul Siren's concert.
Nina wore an all-white corset with silver embellishments, wings and shorts during the opening number. She sang and danced through R&B hits "Price Tag" and "Domino," by Jessie J, "Laserlight," by David Guetta and "Love On Top," by Beyonce.
BUWIS BUHAY. Nina described her opening act as "buwis buhay" when she surprised her audience with a song and dance number.
"I know it takes a lot of guts to do that kind of stuff, grabe!
"Puwede naman magpahinga di ba? Puwede namang hindi tuloy tuloy ang matataas.
"Umpisa pa lang, buwis buhay na, kamusta naman 'yon?
"Puwede naman uminom sandali, mag-pause. I know a lot of things came into my life.
"First, I was scared, kaya ko ba ito? Sunod sunod to the highest level?
"But you know the fire, the passion, the excitement to do something new and different to you my Soulmates [referring to her fans]...
"To everybody who never stopped loving me, embracing me, supporting me, you erase all the inhibitions I have within me, so nawawala yun because of you guys."
The Soul Siren was all hyped up because of the applause that she received that night from her fans. In return, she gave her best in giving an outstanding performance.
Indeed, Nina was born again and now she's stronger than ever.
ADVERTISEMENT - CONTINUE READING BELOW
She introduced Alicia Keys' song "Girl on Fire" by saying, "Tonight, you will see a stronger Nina, a more daring Nina to do the real stuff tonight.
"Nina takes risks with her eyes wide open and guess what? She's so loving it!
"I am on fire guys! Are you ready to get burned?"
During her next set, Nina dedicated songs to "strong ladies" in the crowd.
"I'd like to dedicate my next song to all the strong ladies here tonight.
"Sa mga guys, i-dedicate niyo na lang ito sa mga strong ladies n'yo, song n'yo na rin 'yan para nga lang sa mga ladies n'yo."
The Soul Siren really made an effort to connect with her audience that night.
"Speaking of mga partner-partner, I'm sure you guys came to love me because of my past songs.
"One point in your life naging theme song siya ng buhay mo o ng love life mo?
And the crowd screamed, yes!!!
"Yes, tama? Yung ume-emote, emote pa kayo, yes? Iyan na nga ba ang sinasabi ko, e.
"I want to take you back to that time where promises are made, when your hearts beat as one, when you're trying to make a sense of it, so blame it on my heart.
"I wanna take you back to the time when the person you were with was the person you want to spend your life with."
It can be said that Nina's journey in the music industry can mirror the journey of her fans in their life or love life as well.
ADVERTISEMENT - CONTINUE READING BELOW
During her next set, Nina performed songs from her album Nina Live! It is considered to be the biggest-selling album by a female artist in the Philippines since it is certified 10x Platinum, making it eligible for a Diamond Record award.
She serenaded the crowd with her hit remakes of "Love Moves in Mysterious Ways," "Somewhere Down the Road," "Fall for You" and "Cry (Just a Little)."


In 2002, Nina released her studio album Heaven with her carrier single "Jealous" which received notable awards from Awit Awards, MTV Philippines and Candy Rap Awards.
ONE GREAT LOVE. Nina then commended her fans who have managed to keep their relationship strong through the years. "Sa mga nakahanap ng kanilang "OGL" yes, O-G-L, One Great Love, congrats sa inyo medyo mahirap gawin yun, ah!"
Then, Nina segued her spiel to tackle breakups and how to move on.
"Breaking up with someone brings you closer to the right person.
"Nababasa ko lang naman, so parang sinasabi na, pag nagbreak kayo let go, move on na.
"Basta it makes you closer to 'The One.'
"Pero huwag naman kayo choosy mga 'te! Baka naman to the highest level na pogi ang gusto mo, e, pogi din ang gusto.
"Kailangan sapat lang, yung keribels [kaya] lang. Alam n'yo naman minsan nagkakaubusan na ng lahi."
Nina then sang two famous Filipino songs, "Bukas na Lang Kita Mamahalin" and "Walang Hanggan." Her version of Lani Misalucha's "Bukas na Lang Kita Mamahalin" was one of the most applauded number that night.
ADVERTISEMENT - CONTINUE READING BELOW
Nina admits that one of her music icons is Mariah Carey. The Filipina singer considers Mariah as her personal hero since she was inspired to sing and perform because of the American singer.
Wearing a red Venus cut gown and shining shimmering silver pumps, Nina did a Mariah medley including the songs "Never Too Far," "Through the Rain" and "Vison of Love."
Freestyle vocalist Jinky Vidal was one of the guests that night. She did a duet with Nina for the song "Someday Love Will Find You" and Jinky also performed two solo numbers for the songs "Nakapagtataka" and "Bakit ba Ganyan."
JEALOUS NO MORE? Once again, Nina wowed her audience through her memorable song "Jealous."
"I'd like to do something of my own this time," she told the crowd.
"I consider this song very special and I hope you guys will cherish this number 'coz this is the last time I will be singing this song, joke lang!
"Kasi may bagong album na, e."
Again, Nina thanked everyone who journeyed with her since the beginning and she knows that her songs will always be a part of everybody's lives.
LETTING GO AND MOVING ON. Nina continued: "Hindi ko kayo masisi 'coz this song brings back a lot of memories.
"Happy memories mga good ones, bad ones, painful memories
"At kung ano man 'yon, the fact remains, there are memories that you can just let go or take with you.
"You have a choice. Actually, there's always a choice kung ano ang pipiliin niyo.
ADVERTISEMENT - CONTINUE READING BELOW
"But a smart person knows when to stay in a situation or just move on.
"I'd say quietly forgiving and moving on is a gift to God and yourself.
"Alam mo yung tipong ikaw na nga ang agrabyado ikaw pa yung galit na galit, when you hold a grudge against someone it will slowly drain you.
"Tipong ikaw na nga yung sinaktan, ikaw pa yung galit sa tao, samantalang yung taong nanakit sayo deadma sa world parang wala lang.
"Parang ikaw yung talo dun, ikaw lahat yung kumakargo ng sakit.
"I believe that you just need to move on and go.
"Goodbyes are necessary to have a life that's really for us.
"You have to say goodbye in order to to be born again, para everything is good...lahat yung excess baggage wala na, naka move on ka na, tama di ba?"
The Soul Siren then did a Rihanna and Madonna medley featuring the songs "Please Don't Stop the Music," and "Music."
She also did a soulful medley where she sang "You Make Me Feel," "Sweet Thing" and "Respect."
ALL GOOD ALBUM. Ninadescribes her All Good album as something that will make you feel at home just like when you are with the one you love.
"Pag pagod ka, makita mo lang yung taong yun, parang mawawala na lahat. May mga ganun ba kayo?
"Yung mga wala pang special someone okay lang yun.
"Ang sinasabi ko yung meron special someone, yung nakaka-relate.
"Sinasabi ko lang naman pag may special someone, mafi-feel mo yung tipong feel at home ka, siyempre sa trabaho kailangan nakapustura talaga, kailangan laging naka-up ang neck.
ADVERTISEMENT - CONTINUE READING BELOW
"You're just yourself pag andun ka sa taong yun."
She sang three songs from her All Good album. She started with the A Secret Affair original soundtrack "Don't Say Goodbye," "All Good" and "When the Love is Gone" and "Maybe It's Too Soon."
"MAYBE IT'S TOO SOON." While introducing the song "Maybe It's Too Soon, Nina admitted: "Asking questions where to go after the break up, 'di mo 'lam kung saan ka magsisimula.
"So this is what this song talks about, when the love is gone 'eto na from medyo masakit na song.
"'Eto naman yung feeling nito a bit kilig, yung tipong pag may nakita ka, na-love at first sight ka.
"Tapos parang magkaka-crush ka dahil ang cute ng smile niya or yung eyes niya type mo yung mga ganung eyes.
"So parang iniisip mo maganda lang yung smile in love na agad?
"Parang it's too soon to fall in love with that person."
After singing songs from her latest album, she thanked everyone for coming over but the crowd went wild and requested for more songs. Nina obliged and performed two encore songs, Beyonce's "Listen" and Chaka Khan's "Through the Fire."
­­­
The Nina… Reborn concert ended with a short meet and greet and autograph signing with the Soul Siren.