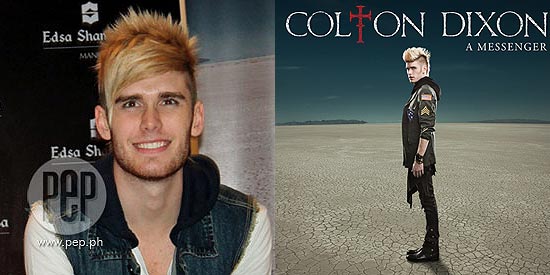 ---
American Idol Season 11 finalist Colton Dixon is here in Manila again to show full support his fellow AI contender Jessica Sanchez. They will perform for their Filipino fans during their February 14 concert at the Smart-Araneta Coliseum.
Colton is also here to promote his album A Messenger, which will be launched this Valentine's Day.
A MESSENGER. This album has two singles, "You Are" and "Never Gone," which topped the Christian and Gospel Digital Sales.

According to a release given by MCA Music, "Never Gone" was heard by over 360,000 people, making it an hit digital single.
Colton explains, "This song is about how we sometimes need a reminder about why we do certain things or in this case, a reminder about whom we are living for.
He adds, "When you are scared of the dark as a child, you just turn on the lights and know everything will be okay. That's the basic message of the song.
"I've experienced this feeling."
The singer-songwriter also found inspiration in writing a song for his close friend who attempted suicide.
His song "You Are" could be considered an anthem for those who are struggling during difficult times in their lives.
The song "You Are" is one example of how Colton embodies the album's title concept of A Messenger, which comes from his favorite scripture about a messenger never being greater than the one who sent him.
Colton has written inspirational songs but has he written any heartbreak or relationship songs?


He answered, "Yes, I have! All the songs I've written are inspired by scriptures I think that 'Rise' is the song that is about a heart breaking relationship status."


ADVERTISEMENT - CONTINUE READING BELOW
"But 'Rise' is a song that comes from a love situation," he explains.
"But I have written songs about heartbreak and it was extremely cheesy," the singer admitted.
Is the message of your album for Christians only or can non-Christians relate and be inspired by your songs?


"Absolutely! I am not limiting my music to religious listeners.


"I just wanted to encourage and inspire and to be a light in the dark," says Colton.



COLTON THE PASTOR? If you were not a singer now, how would you send the message? Hypothetically?


Colton then declared that if he weren't a singer now, he could have been a pastor in their community.


The American Idol finalist admitted, "I would really want to be… still in a ministry but probably pastor at a church.

"I love being a part of youth group where I grew up with."
He pointed out, "Well, I just like how our pastor connected with us, he taught us how to be comfortable with the things we share with our parents.
"I just enjoy that connection there so if not through music maybe through that."
How do you differentiate your music from other contemporary Christian music artists?
The 21-year-old singer answered, "I am just trying to be me.
"I think you can really tell the artists who are trying to be themselves because they do stand out...because they are different in that way, just being themselves.
"That's what I am trying to do."
He adds, "I love rock music. I also love the more rock stuff by Coldplay and The Fray.
ADVERTISEMENT - CONTINUE READING BELOW
"So I just want to buy those things, those album hits and that's pretty much what we got with A Messenger."
Colton is very vocal about him being a Christian and being very active in this Christian community. In fact, he is known for giving talks to young people about the Bible.


Given this fact, how does he deal with those who are not as religious as him? Among the producers he has worked with, are any of them non-believers? Has he been able to influence these producers regarding their faith?
"There are few producers that I can tell that weren't believers," he observed.

"To me it's not about preaching or being in someone's face about something, it's about living by example.
"I believe on so-called higher standards on some things, so whatever it may be, I think they just look at the way of living.
"I am not perfect but I am trying to set an example that's what I am trying to do."
What is his favorite love song? "I know I said I was romantic but my love song category is lacking."
MUSICAL INFLUENCES. Colton Dixon may be considered as a religious singer but he says that he is still a rocker. In fact, he told the Philippine media about his musical influences and his favorite songs.
He enumerated: "'30 Seconds to Mars' 'This is War,' 'Closer to the Edge,' any song from 30 Seconds to Mars.
"I love Chris Daughtry, 'Home' is a great song, I love 'Calling Back to You,' 'What About Now.'
ADVERTISEMENT - CONTINUE READING BELOW
"Lifehouse's 'Everything' is my favorite worship song of all time.
"Switchfoot, I just love music so whatever I can get."
DREAM COLLABORATION. Like any other artist, Colton wants to collaborate with his music icons.
He revealed, "I'd love to collaborate with Switchfoot, 30 Seconds to Mars, Jared Leto and Coldplay."
"I actually get to collaborate with Jason [Wade] of Lifehouse, and he's just amazing!


The AI finalist then recalled his experiences while collaborating with Jason, the vocalist-guitarist of the band Lifehouse.
Colton explains, "Jason is a great guy he was here not too long ago.
"He was just so cool, he once sent me an invitation to his house we wrote songs and just had a great time.
"There's so many I want to collaborate with, but I would stick to those for now."